| | |
| --- | --- |
| HS: West Philadelphia | Philadelphia, PA |
Season Stats

| Season | Cl | Pos | G | GS | FG | FGA | % | FT | FTA | % | Reb | Fls | DQ | Pts | PPG | RPG |
| --- | --- | --- | --- | --- | --- | --- | --- | --- | --- | --- | --- | --- | --- | --- | --- | --- |
| 1961-62 | So | G | 24 | 22 | 137 | 350 | 39.1% | 122 | 158 | 77.2% | 129 | 59 | 0 | 396 | 16.5 | 5.4 |
| 1962-63 | Jr | G | 21 | 21 | 79 | 223 | 35.4% | 75 | 110 | 68.2% | 105 | 49 | 0 | 233 | 11.1 | 5.0 |
| 1963-64 | Sr | G | 21 | 12 | 21 | 46 | 45.7% | 13 | 17 | 76.5% | 28 | 19 | 0 | 55 | 2.6 | 1.3 |
| Career | | | 66 | 55 | 237 | 619 | 38.3% | 209 | 285 | 73.3% | 262 | 127 | 0 | 683 | 10.3 | 4.0 |
Carl Vernick started as the star player on some terrible Syracuse teams, and ended his career as a reserve on a good Syracuse team.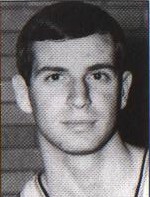 Vernick was a star player from Philadelphia. As a sophomore he led the Orangemen in scoring, and set the Syracuse scoring record for a sophomore (subsequently broken by Dave Bing two years later). He would score 30+ points twice that year, including a 39 point effort against Cornell (both efforts were losses for Syracuse). He proved to be the lone bright spot in a season where the Orangemen would set an NCAA record for consecutive losses (at 27, since broken by Rice University). Vernick displayed a good shooting touch and solid free throw shooting.
He would lead the team in scoring again his junior season. The team would improve, though his scoring would drop dramatically.
Vernick was named a co-captain his senior season. He would start the first 12 games of the season, though his scoring was significantly down as a couple of new stars were on the team in Dave Bing and Chuck Richards, along with some other talented sophomores. By mid season, the improved play of the sophomores would cost Vernick his starting position, and ultimately significant playing time as he barely played down the stretch. He would play only a few minutes in the Orangemen's NIT game in 1964, their first post season action since 1957.
Vernick would earn an engineering degree at Syracuse, and would become president of an environmental services company.
©RLYoung 2006, 2017