| | |
| --- | --- |
| HS: Christ The King | Queens, NY |
| | |
| --- | --- |
| Born: 7/31/1964 | New York, NY |
Season Stats

| Season | Cl | Pos | G | GS | Min | FG | FGA | % | FT | FTA | % | Asst | Reb | Fls | DQ | TO | ST | BS | Pts | PPG | APG | RPG |
| --- | --- | --- | --- | --- | --- | --- | --- | --- | --- | --- | --- | --- | --- | --- | --- | --- | --- | --- | --- | --- | --- | --- |
| 1982-83 | Fr | F | 30 | 0 | 488 | 61 | 120 | 50.8% | 48 | 64 | 75.0% | 14 | 134 | 70 | 4 | 28 | 15 | 16 | 170 | 5.7 | 0.5 | 4.5 |
| 1983-84 | So | F | 32 | 0 | 733 | 97 | 221 | 43.9% | 64 | 78 | 82.1% | 42 | 170 | 87 | 7 | 48 | 21 | 19 | 258 | 8.1 | 1.3 | 5.3 |
| 1984-85 | Jr | F | 31 | 0 | 836 | 116 | 215 | 54.0% | 66 | 86 | 76.7% | 37 | 185 | 78 | 3 | 54 | 32 | 35 | 298 | 9.6 | 1.2 | 6.0 |
| 1985-86 | Sr | F | 32 | 32 | 1026 | 192 | 354 | 54.2% | 102 | 126 | 81.0% | 50 | 237 | 92 | 2 | 57 | 43 | 33 | 486 | 15.2 | 1.6 | 7.4 |
| Career | | | 125 | 32 | 3083 | 466 | 910 | 51.2% | 280 | 354 | 79.1% | 143 | 726 | 327 | 16 | 187 | 111 | 103 | 1212 | 9.7 | 1.1 | 5.8 |
Wendell Alexis was a smooth flowing slender forward who was a valuable sixth man for three seasons, and a key starter his senior year. He possessed a decent perimeter shot, and was an outstanding free throw shooter. With his long frame, he fit well into the Jim Boeheim zone defense. However, that same slender build made him more suited as a sixth man, than as a starter in the rugged Big East.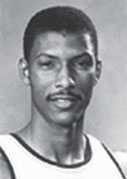 Alexis came to Syracuse as one of the top high school players out of New York City. His freshman year, the Orangemen had a senior laden team, yet Alexis would make an impression off the bench. As a sophomore, and again as a junior he was the top sixth man on the team. He would have significant playing time in every game, usually playing close to 30 minutes a game. Alexis would provide relief for Andre Hawkins, Raf Addison and Sean Kerins over the course of each game.
As a senior, Alexis assumed the starting role that Hawkins had vacated. He showed he had earned the position by being second in the team in scoring and rebounding, and earning All Big East Second Team honors, as Syracuse won the Big East regular season title with a 14-2 record.
Alexis would be drafted in the 3rd round of the 1986 NBA draft by the Golden State Warriors with the 59th overall pick. He would not make the team, and failed to play in the NBA. However he did have a long career in professional basketball. In 1987 he played in Spain. From 1988 to 1993 he played in the Italian league, and was named the league MVP in 1993.
He played for the Maccabi Tel Aviv Team in 1994, leading his team to the championship and winning the Israeli league MVP. In 1995 he played in France.
From 1996 to 2002 he played in the German basketball league, where he became immensely popular. He was named the German league MVP three times. In 2004, he returned to the German league to play for Mitteldeutscher, who he helped lead to its first every European Championship. As a result he was named MVP of the FIBA Western Region, and he retired from playing basketball.
Alexis would enter into coaching in 2005 at the high school level, and in 2006 would enter the coaching ranks of college basketball as an assistant coach at New Jersey Institute of Technology. He also became a co-owner of Lega Basket USA, along with fellow Syracuse alumni Roosevelt Bouie.
©RLYoung 2006