| | |
| --- | --- |
| Born: 1/21/1958 | Kendall, NY |
Season Stats

| Season | Cl | Pos | G | GS | Min | FG | FGA | % | FT | FTA | % | Asst | Reb | Fls | DQ | TO | ST | BS | Pts | PPG | APG | RPG |
| --- | --- | --- | --- | --- | --- | --- | --- | --- | --- | --- | --- | --- | --- | --- | --- | --- | --- | --- | --- | --- | --- | --- |
| 1976-77 | Fr | C | 30 | 30 | 753 | 140 | 258 | 54.3% | 46 | 55 | 83.6% | 15 | 242 | 90 | 5 | - | - | 91 | 326 | 10.9 | 0.5 | 8.1 |
| 1977-78 | So | C | 28 | 28 | - | 126 | 238 | 52.9% | 43 | 72 | 59.7% | 11 | 246 | 88 | 6 | - | - | 84 | 295 | 10.5 | 0.4 | 8.8 |
| 1978-79 | Jr | C | 30 | 30 | - | 176 | 279 | 63.1% | 103 | 162 | 63.6% | 15 | 257 | 94 | 4 | - | - | 81 | 455 | 15.2 | 0.5 | 8.6 |
| 1979-80 | Sr | C | 30 | 30 | - | 189 | 289 | 65.4% | 106 | 162 | 65.4% | 24 | 242 | 103 | 5 | - | - | 71 | 484 | 16.1 | 0.8 | 8.1 |
| Career | | | 118 | 118 | - | 631 | 1064 | 59.3% | 298 | 451 | 66.1% | 65 | 987 | 375 | 20 | - | - | 327 | 1560 | 13.2 | 0.6 | 8.4 |
Roosevelt Bouie was one of the most dominating centers in Syracuse basketball, a four year starter. He was one of the first recruits of new head coach Jim Boeheim. Bouie would combine with classmate Louis Orr to form the Bouie 'N Louie show at Syracuse, an outstanding four year record of 100-18.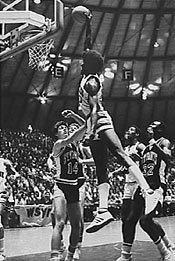 Bouie's impact on the team was immediate his first season. His size removed the legacy of Roy's Runts from Syracuse, and allowed Marty Byrnes to move from the center position to his natural power forward position. Bouie was a big man, but also a very athletic player, able to run the court well, and quick to block shots. His skills fit perfectly into coach Boeheim's plans to run the ball.
Bouie was a good defensive player from the start (he was a second team freshman All-American), and developed into an outstanding defensive player. He was a solid rebounder (always having his numbers reduced by the presence of teammates such as Orr, Byrnes and Danny Schayes), and a good shot blocker. Bouie ran the court well, and was very good at getting into position to take the high percentage shots near the hoop. He was not a good free throw shooter (though his freshman year, he had an aberration of shooting a blistering 84% from the free throw line). Bouie was an aggressive defender, and was foul prone throughout his career. Even as a senior, he fouled out of several games (often costly to the Orangemen).
Bouie earned All-America honors his senior season, and was named first team Big East in the conference's inaugural season. He became a scoring force as the season developed, and had back to back games against Connecticut and Temple where he scored 29 and 30 points respectively. When he graduated, he was the 2nd all-time leading scorer in Syracuse history (since surpassed), the third all-time leading rebounder, the all time field goal percentage shooter, and first in blocked shots (since broken by Etan Thomas).
He was the 34th pick of the 1980 NBA draft, taken in the second round by the Dallas Mavericks. When contract negotiations with the Mavericks did not work out, Bouie held to a threat he had made during process, and went to Italy to play basketball. With his talent and size, Bouie became an immediate star in the Italian league.
Bouie enjoyed the quiet and slow lifestyle of rural New York where he grew up, and Italy suited him well. He ended up loving the lifestyle in Italy, and never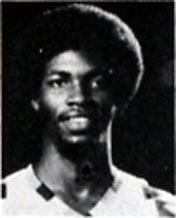 considered coming back to try the NBA. Bouie would play thirteen seasons in Italy (two for Scavolini Resaro, seven for Riunite Reggio Emilia, and two for Clear Contu), where he was considered a legend, and was team captain for most of his career. He holds the league record for career field goal percentage, and was a five time all-star. He led his team to the European Championship for the 1991-92 season. He also played one year in Oreste, Spain.
Bouie came back to the United States after he retired from playing basketball to work with Opportunita, an organization developed to help small New York state communities establish business opportunities.
In 2004, Bouie organized the first European Basketball tryout camps in the United States, through Lega Basket. He became co-owner of the Lega Basket USA, along with Dan Gay, and former Syracuse Orangeman Wendell Alexis. The purpose of the camps is to provide opportunities for college age basketball players to try out for European leagues. Several former Syracuse players have gone to Bouie's camps including Lazarus Sims, Billy Edelin and Dayshawn Wright.
Bouie was named to the Syracuse University All Century Team in 2000, a Vic Hanson Award Winner in 1994, and a Syracuse Letterwinner of Distinction in 2006. Syracuse retired his uniform along with Louis Orr's in February 2015.
©RLYoung 2006, 2007, 2015