| | | |
| --- | --- | --- |
| 6'6" | 240 lbs | Center/Forward |
| | |
| --- | --- |
| HS: Malverne | Malverne, NY |
Season Stats

| Season | Cl | Pos | G | GS | Min | FG | FGA | % | FT | FTA | % | Asst | Reb | Fls | DQ | TO | ST | BS | Pts | PPG | APG | RPG |
| --- | --- | --- | --- | --- | --- | --- | --- | --- | --- | --- | --- | --- | --- | --- | --- | --- | --- | --- | --- | --- | --- | --- |
| 1981-82 | Fr | C | 29 | 29 | 569 | 60 | 96 | 62.5% | 43 | 63 | 68.3% | 13 | 114 | 100 | 6 | 43 | 27 | 18 | 163 | 5.6 | 0.4 | 3.9 |
| 1982-83 | So | C | 31 | 31 | 620 | 68 | 112 | 60.7% | 35 | 51 | 68.6% | 19 | 106 | 107 | 10 | 35 | 21 | 19 | 171 | 5.5 | 0.6 | 3.4 |
| 1983-84 | Jr | C | 32 | 32 | 907 | 128 | 228 | 56.1% | 80 | 108 | 74.1% | 47 | 190 | 126 | 11 | 58 | 35 | 28 | 336 | 10.5 | 1.5 | 5.9 |
| 1984-85 | Sr | F | 31 | 31 | 707 | 57 | 136 | 41.9% | 57 | 75 | 76.0% | 17 | 130 | 91 | 8 | 29 | 26 | 10 | 171 | 5.5 | 0.6 | 4.2 |
| Career | | | 123 | 123 | 2803 | 313 | 572 | 54.7% | 215 | 297 | 72.4% | 96 | 540 | 424 | 35 | 165 | 106 | 75 | 841 | 6.8 | 0.8 | 4.4 |
Andre Hawkins was a burly, though undersized center who was known for his aggressive play on the court, and was a four year starter. He played in the Big East at the same time as legendary big men Patrick Ewing (Georgetown), Bill Whittington (St. John's) and Eddie Pinckney (Villanova). Hawkins would usually lose the individual match up to these players, but his aggressive and physical style of play would take those players out of their games at times, and give Syracuse a legitimate chance to win.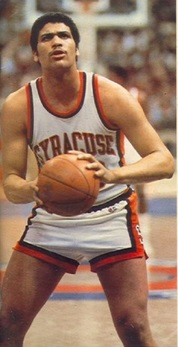 With less natural talent, and smaller in height then the big men he had to cover, Hawkins was prone to foul trouble. His freshman and sophomore years saw it difficult to keep him on the court for the entire games. However, by his junior year, he started to learn how to keep out of foul trouble. And his hard work started to pay off as he learned to master the low post scoring, increasing his average to 10.5 points per game. Adding in his improvement as a free throw shooter, and he had become a solid player.
The play Hawkins is most remembered for is one of the most controversial in Syracuse basketball history. In the Big East tournament finals, Syracuse held a slim lead over Georgetown late in the game. Tiring of Hawkins physical defensive play, the Hoya's Michael Graham threw a punch at him. Initially, the referees ejected Graham. But then after a discussion with Hoya Coach John Thompson, the referees reversed their call and kept Graham in the game. The difference being that instead of four free throws and possession of the ball, Syracuse got only two free throws. This shifted the momentum of the game in the Hoyas favor, as they pulled ahead to win the game. Hawkins played well enough in the tournament that year, that he was named to the All-Big East Tournament team.
Another memorable moment in Hawkins career was in a Boston College game. As time expired and Syracuse ahead by one, referee Froggy Paparo called Hawkins blocking charge at mid court on BC's Michael Adams, who promptly made both free throws to win the game. Paparo had a history of making questionable calls against Syracuse over his career; the fallout from this game would be such that Paparo would never referee another Syracuse game, and the following season he switched to officiating ACC games.
Hawkins found himself out of position his senior year, as freshman Rony Seikaly joined the team. Seikaly was a gifted athlete and a natural center, while Hawkins was more suited for playing the power forward position. However, after three years of learning to play the low post with his back to the basket, Hawkins wasn't able to readjust to playing the forward position, and his scoring dropped in half.
© RLYoung 2005, 2006