| | |
| --- | --- |
| HS: Vocational | Syracuse, NY |
| HS: Virginia Military Academy | Staunton, VA |
| | |
| --- | --- |
| Born: 4/9/1931 | Penfield, NY |
Season Stats

| Season | Cl | Pos | G | GS | FG | FGA | % | FT | FTA | % | Fls | DQ | Pts | PPG |
| --- | --- | --- | --- | --- | --- | --- | --- | --- | --- | --- | --- | --- | --- | --- |
| 1951-52 | So | G | 12 | 2 | | - | --- | | | | | - | 64 | 5.3 |
| 1952-53 | Jr | G | 10 | 8 | | - | --- | | | | - | - | 97 | 9.7 |
| Career | | | 22 | 10 | 58 | 0 | 0.0 | 45 | 67 | 67.2% | +27 | 0 | 161 | 7.3 |
Peter 'Pat' Stark was an outstanding athlete, who was the quarterback for the Syracuse football team and played two years on the basketball team. He was a starting guard on the basketball team his junior season, after joining the team when football had ended.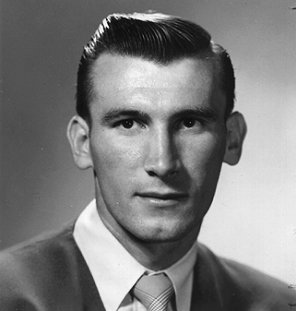 In high school, Stark was all-state in basketball, football, and baseball. He scored 78 points in a game at Vocational High School, a New York state record. He had another game with Virginia Military Academy where he scored 60 points, which was a Virginia state record. Stark set the Syracuse freshman single game scoring record of 28 pts (since broken), and was the freshman team's leading scorer.
Though he was a huge basketball star in high school, at Syracuse Stark was a star on the football field, with three varsity letters, earning All East All-American status his junior and senior seasons at quarterback (1952, 1953). He led the Orangemen to the Orange Bowl in 1953. He threw for over 1000 yards each of his Junior and Senior seasons, with a combined 19 touchdowns versus 12 interceptions. Stark would break his jaw his senior season in the East / West Shrine Bowl football game. As a result of the injury, he would decide not to play basketball his senior season.
Stark was drafted in the 2nd round of the 1954 NFL draft by the Pittsburgh Steelers with the 19th overall pick. However, he would not play in the NFL.
He was part of the coaching staff of the 1959 Syracuse Orangemen football team that won the NCAA National Championship, and on the staff from 1957-1959.
From 1969 to 1983, he was the head football coach at the University of Rochester. He was the Section I Coach of the Year in 1970, and led the team to 12 consecutive victories.
Stark was inducted into the Syracuse Hall of Fame in 1995. He was awarded the Syracuse Letterwinner of Distinction Honor in 1991. He was also inducted into the University of Rochester Hall of Fame.
Pat's older brother Mike was a standout guard at Syracuse from 1946 to 1950, and his younger brother Lou played at Syracuse from 1955-1956.
©RLYoung 2005, 2006, 2014, 2017, 2018