| | |
| --- | --- |
| Syracuse @ Niagara | |
| Niagara Student Center, Lewiston, NY | |
| December 7, 1968 | |
| | | | | | | | | | | | | | | | |
| --- | --- | --- | --- | --- | --- | --- | --- | --- | --- | --- | --- | --- | --- | --- | --- |
| Pos | Player | Min | FG | FGA | 3FG | 3FGA | FT | FTA | Reb | Asst | TO | Stl | Blk | Fls | Pts |
| G | | - | 2 | 2 | - | - | 3 | 3 | - | - | - | - | - | - | 7 |
| G | | - | 6 | 12 | - | - | 0 | 0 | - | - | - | - | - | - | 12 |
| C | | - | 13 | 17 | - | - | 15 | 16 | - | - | - | - | - | - | |
| F | | - | 3 | 8 | - | - | 3 | 4 | - | - | - | - | - | - | 9 |
| F | | - | 5 | 9 | - | - | 0 | 1 | - | - | - | - | - | - | 10 |
| - | | - | 2 | 2 | - | - | 0 | 0 | - | - | - | - | - | - | 4 |
| - | | - | 2 | 3 | - | - | 1 | 1 | - | - | - | - | - | - | 5 |
| - | | - | 1 | 2 | - | - | 0 | 0 | - | - | - | - | - | - | 2 |
| - | | - | 4 | 7 | - | - | 0 | 0 | - | - | - | - | - | - | 8 |
| - | | - | 4 | 5 | - | - | 2 | 3 | - | - | - | - | - | - | 10 |
| - | | - | 1 | 2 | - | - | 0 | 0 | - | - | - | - | - | - | 2 |
| | Syracuse Total | 200 | 43 | 69 | - | - | 24 | 28 | - | - | - | - | - | - | 110 |
| | | | | | | | | | | | | | | | |
| --- | --- | --- | --- | --- | --- | --- | --- | --- | --- | --- | --- | --- | --- | --- | --- |
| Pos | Player | Min | FG | FGA | 3FG | 3FGA | FT | FTA | Reb | Asst | TO | Stl | Blk | Fls | Pts |
| G | Calvin Murphy | - | 24 | 46 | - | - | 20 | 23 | 6 | 6 | - | - | - | - | 68 |
| G | Mike Brown | - | 2 | 3 | - | - | 2 | 3 | - | - | - | - | - | - | 6 |
| C | Rob Churchwell | - | 9 | 14 | - | - | 1 | 2 | - | - | - | - | - | - | 19 |
| F | Steve Schafer | - | 4 | 13 | - | - | 2 | 5 | - | - | - | - | - | - | 10 |
| F | Mike Samuel | - | 4 | 9 | - | - | 1 | 1 | - | - | - | - | - | - | 9 |
| - | Jim Malfetti | - | 2 | 5 | - | - | 1 | 4 | - | - | - | - | - | - | 5 |
| - | Joe Russell | - | 0 | 3 | - | - | 1 | 2 | - | - | - | - | - | - | 2 |
| - | Bill Zeits | - | 0 | 3 | - | - | 0 | 0 | - | - | - | - | - | - | 0 |
| - | Joe Adomanis | - | 0 | 0 | - | - | 0 | 0 | - | - | - | - | - | - | 0 |
| - | Dick Fitzgerald | - | 0 | 0 | - | - | 0 | 0 | - | - | - | - | - | - | 0 |
| - | Bill MacReady | - | 0 | 0 | - | - | 0 | 0 | - | - | - | - | - | - | 0 |
| | Niagara Total | 200 | 45 | 96 | - | - | 28 | 40 | - | - | - | - | - | - | 118 |
Comments:
Syracuse had been unable to stop Niagara's speedy Calvin Murphy the previous season, as Murphy scored 50 points against the Orangemen. Though new Syracuse coach Roy Danforth tried many different defenders on Murphy, there was going to be no success in this game either.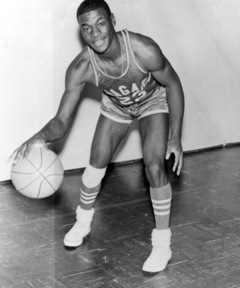 Murphy would set an NCAA Division I record with 68 points against the Orangemen that night, making 24 of 46 shots, many on long range shots. He would score 34 in the first half and 34 in the second.
Syracuse's Bill Smith would have a big night as Niagara was unable to stop him inside. Smith would make 13 of 17 shots, for 41 points, but that was pale compared to Murphy's efforts. Niagara would go on to win the game 118-110.
Syracuse would make 64% of its field goal attempts, and 86% of its free throws and lose by 8 as Niagara would take 27 more field goal attempts and 12 more free throw attempts.
© RLYoung 2015