| | |
| --- | --- |
| HS: Spingarn | Washington, D.C. |
Season Stats

| Season | Cl | Pos | G | GS | FG | FGA | % | FT | FTA | % | Asst | Reb | Fls | DQ | Pts | PPG | APG | RPG |
| --- | --- | --- | --- | --- | --- | --- | --- | --- | --- | --- | --- | --- | --- | --- | --- | --- | --- | --- |
| 1968-69 | Jr | G/F | 24 | 18 | 77 | 194 | 39.7% | 22 | 41 | 53.7% | - | 130 | 31 | - | 176 | 7.3 | 0.0 | 5.4 |
| 1969-70 | Sr | F | 23 | 11 | 74 | 155 | 47.7% | 42 | 59 | 71.2% | - | 160 | 48 | 1 | 190 | 8.3 | 0.0 | 6.9 |
| Career | | | 47 | 29 | 151 | 351 | 43.0% | 66 | 100 | 66.0% | - | 290 | 79 | +1 | 366 | 7.8 | 0.0 | 6.2 |
Gerry McFadden was a forward at Syracuse University for two seasons. McFadden started his collegiate career at Dodge City Junior College in Kansas. He would enroll at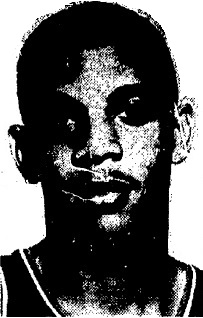 Syracuse for his junior season. He was known for being a hard driver to the basket.
Coach Roy Danforth tried McFadden out at guard to start the season, in an effort to get more offense and size on the court. However, McFadden struggled at the guard position, and in January he would move him to his natural forward position. McFadden would not fare much better. He would be suspended for disciplinary reasons, and removed from the starting lineup for a period of time in February.
McFadden would start his senior season as a reserve forward. The Syracuse team was struggling, and by mid-season he had moved back into the starting lineup, replacing Bill Finney.
© RLYoung 2013