| | | |
| --- | --- | --- |
| 6'3" | 190 lbs | Guard / Forward |
| | |
| --- | --- |
| HS: Garfield | Terre Haute, IN |
| | |
| --- | --- |
| Born: 4/16/1947 | Terre Haute, IN |
Season Stats

| Season | Cl | Pos | G | GS | FG | FGA | % | FT | FTA | % | Asst | Reb | Fls | DQ | Pts | PPG | APG | RPG |
| --- | --- | --- | --- | --- | --- | --- | --- | --- | --- | --- | --- | --- | --- | --- | --- | --- | --- | --- |
| 1966-67 | So | F | 21 | 0 | 17 | 37 | 45.9% | 3 | 6 | 50.0% | | 16 | 12 | | 37 | 1.8 | | 0.8 |
| 1967-68 | Jr | F | 15 | 7 | 40 | 71 | 56.3% | 16 | 16 | 100% | | 21 | 21 | | 96 | 6.0 | | 1.4 |
| 1968-69 | Sr | G | 20 | 4 | 35 | 111 | 31.5% | 22 | 25 | 88.0% | | 37 | 38 | | 92 | 4.6 | | 1.9 |
| Career | | | 56 | 11 | 92 | 219 | 42.0% | 41 | 47 | 87.2% | 0 | 74 | 71 | 0 | 225 | 4.0 | 0.0 | 1.3 |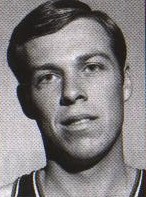 Frank Hamblen played forward and guard for Syracuse during the late 60's and was captain of the 1969 team. He also played baseball while at Syracuse, though he did not letter. His basketball trademark was a jump shot where he barely left the floor, and he was an outstanding free throw shooter. He missed portions of his junior and senior seasons due to injury and illness.
A strong student of the game, Hamblen began immediately working for the NBA as a scout upon his graduation in 1969 for the San Diego/Houston Rockets. This started a 42 year career with the NBA & ABA, where he was a successful assistant coach for the Denver Rockets (1972-77), Kansas City Kings (1978-1987), Milwaukee Bucks (1988-1996), Chicago Bulls (1996-1998), and Los Angeles Lakers (1999-2011). He won seven NBA championships as an assistant coach with the Bulls (1997, 1998) and the Lakers (2000, 2001, 2002, 2009, 2010).
Hamblen was the Bucks interim head coach in 1991-92, going 23-42. In 2005, he replaced Rudy Tomjanovich as the Lakers interim head coach, as the Lakers finished the season 10-29. His total record as an NBA head coach was an unimpressive 33-71.
Hamblen was honored as a Syracuse Letterwinner of Distinction in 2011 and inducted into the Indiana Basketball Hall of Fame in 2007.
Hamblen passed away in September 2017 at the age of 70.
© RLYoung 2005, 2006, 2007, 2013, 2015, 2017