| | |
| --- | --- |
| Born: 2/28/1972 | Monroe, NC |
Season Stats

| Season | Cl | Pos | G | GS | Min | FG | FGA | % | FT | FTA | % | 3Pt | 3PA | % | Asst | Reb | DReb | OReb | Fls | DQ | TO | ST | BS | Pts | PPG | APG | RPG |
| --- | --- | --- | --- | --- | --- | --- | --- | --- | --- | --- | --- | --- | --- | --- | --- | --- | --- | --- | --- | --- | --- | --- | --- | --- | --- | --- | --- |
| 1990-91 | Fr | G | 31 | 30 | 1030 | 106 | 264 | 40.2% | 62 | 88 | 70.5% | 26 | 82 | 31.7% | 164 | 79 | --- | --- | 104 | 2 | 112 | 62 | 4 | 300 | 9.7 | 5.3 | 2.6 |
| 1991-92 | So | G | 31 | 28 | 1014 | 109 | 297 | 36.7% | 90 | 128 | 70.3% | 33 | 99 | 33.3% | 123 | 126 | --- | --- | 97 | 3 | 102 | 48 | 6 | 341 | 11.0 | 4.0 | 4.1 |
| 1992-93 | Jr | G | 29 | 28 | 921 | 140 | 324 | 43.2% | 83 | 104 | 79.8% | 33 | 109 | 30.3% | 161 | 106 | 74 | 32 | 84 | 4 | 102 | 58 | 5 | 396 | 13.7 | 5.6 | 3.7 |
| 1993-94 | Sr | G | 30 | 30 | 1072 | 178 | 396 | 45.0% | 98 | 125 | 78.4% | 47 | 127 | 37.0% | 183 | 145 | 117 | 28 | 77 | 1 | 115 | 49 | 10 | 501 | 16.7 | 6.1 | 4.8 |
| Career | | | 121 | 119 | 4037 | 533 | 1281 | 41.6% | 333 | 445 | 74.8% | 139 | 417 | 33.3% | 631 | 456 | +191 | +60 | 362 | 10 | 431 | 217 | 25 | 1538 | 12.7 | 5.2 | 3.8 |
Adrian 'Red' Autry was the starting point guard for Syracuse basketball for four seasons. He was a big guard (6'4"), who could drive to the hoop and take advantage of his size, and take the perimeter shot when needed. Autry was a good playmaker, and a strong rebounder as a guard. He was also a solid free throw shooter who developed into a very reliable shooter by his junior season. Autry was not a quick player, but his size enabled him to be a very effective passer, and strong in the zone defensive scheme.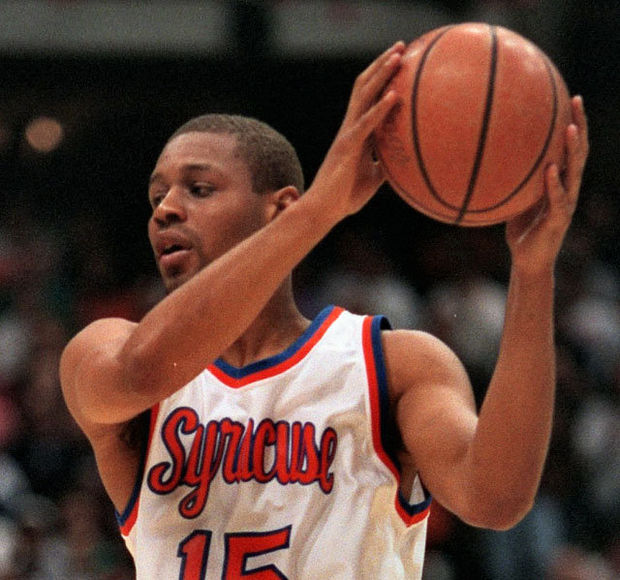 Autry replaced sophomore Michael Edwards as the starting point guard his first season at Syracuse. It was a team with a excellent front court of Billy Owens, Dave Johnson, and Leron Ellis, and the team needed a solid point guard. Autry met that need, and helped guide the Orangemen to a 26-4 regular season, winning the Big East regular season title. The Orangemen would stumble in both their post season games, and finish at 26-6, but an excellent season overall. Autry would be named to the Big East All Rookie Team.
Autry felt more pressure at the point his sophomore season with the departure of Owens. Whereas Owens handled some of the playmaking duties the previous season, and was the man keyed by all defensive schemes, the loss of Owens allowed opposing defenses to put more pressure on Autry. Autry and Mike Hopkins formed a formidable defensive duo in Syracuse's zone defense as they two were 6'4" and 6'5" respectively. Syracuse would end up winning the Big East tournament over Georgetown 56-54.
Autry became a more prominent scorer his junior season, second on the team in scoring behind Lawrence Moten. Autry had become an excellent free throw shooter, making nearly 80% of his attempts. He would score 31 points and have 10 assists in a 95-79 victory over Pitt. The Orangemen were banned from postseason play that season, so no post season heroics for the Orangemen. Autry would make the Big East 3rd Team his junior season.
Autry became a star point guard his senior season, averaging over six assists a game and nearly seventeen points. He had developed into an effective three point shooter, and he, Moten, and John Wallace were a solid scoring trio. Autry would have a stellar game against Kentucky leading the Orangemen to a 93-85 victory. He would score 30 points going 10-15 from the floor, 6-6 from the free throw line, and 4-7 from three point range, and he added 10 assists to top that off.
Against Missouri in the Sweet Sixteen Autry would have another stellar game, gathering 31 points, although that was not enough as the Orangemen would lose 98-88. Autry would be named to the All Big East First Team.
Autry would go undrafted in the NBA, and instead play over in Europe for several seasons. He played in Istanbul, Turkey from 1995-1996, Germany from 1997 to 1999, Italy from 1999 to 2001, France from 2002 to 2003, and in Poland from 2004 to 2005. Autry would come back to the United States and get involved in coaching at the AAU level, eventually coaching high school basketball and moving to the NCAA as an assistant coach for Virginia Tech. In 2011, Autry would become an assistant basketball coach at Syracuse, joining Jim Boeheim's staff.
Autry was named a Syracuse University Letterwinner of Distinction in 2016, and a Vic Hanson Medal of Excellence winner in 2017.
Autry was named the Syracuse Men's Head Basketball coach on March 8, 2023 replacing Jim Boeheim.
© RLYoung 2007, 2011, 2016, 2017, 2023