| | |
| --- | --- |
| HS: Henninger | Syracuse, NY |
| | |
| --- | --- |
| Born: 3/28/1972 | Syracuse, NY |
Season Stats

| Season | Cl | Pos | G | GS | Min | FG | FGA | % | FT | FTA | % | 3Pt | 3PA | % | Asst | Reb | DReb | OReb | Fls | DQ | TO | ST | BS | Pts | PPG | APG | RPG |
| --- | --- | --- | --- | --- | --- | --- | --- | --- | --- | --- | --- | --- | --- | --- | --- | --- | --- | --- | --- | --- | --- | --- | --- | --- | --- | --- | --- |
| 1992-93 | Fr | G | 20 | 0 | 148 | 9 | 26 | 34.6% | 3 | 9 | 33.3% | 0 | 7 | 0.0% | 23 | 11 | | | 9 | 0 | 22 | 9 | 0 | 21 | 1.0 | 1.2 | 0.6 |
| 1993-94 | So | G | 26 | 0 | 251 | 11 | 46 | 23.9% | 10 | 13 | 76.9% | 2 | 16 | 12.5% | 50 | 29 | 20 | 9 | 14 | 0 | 26 | 1 | 14 | 34 | 1.3 | 1.9 | 1.1 |
| 1994-95 | Jr | G | 30 | 0 | 441 | 35 | 66 | 53.0% | 9 | 19 | 47.4% | 10 | 29 | 34.5% | 78 | 43 | 34 | 9 | 46 | 1 | 37 | 26 | 1 | 89 | 3.0 | 2.6 | 1.4 |
| 1995-96 | Sr | G | 38 | 38 | 1353 | 75 | 172 | 43.6% | 65 | 87 | 74.7% | 26 | 72 | 36.1% | 281 | 139 | 93 | 46 | 74 | 0 | 123 | 55 | 5 | 241 | 6.3 | 7.4 | 3.7 |
| Career | | | 114 | 38 | 2193 | 130 | 310 | 41.9% | 87 | 128 | 68.0% | 38 | 124 | 30.6% | 432 | 222 | 154 | 68 | 143 | 1 | 208 | 91 | 20 | 385 | 3.4 | 3.8 | 1.9 |
Lazarus Sims was a tall, long armed point guard who was a pure playmaker, rarely taking a shot. 'Z' excelled at taking care of the ball and making sure his teammates were involved in the action.
Sims redshirted his first year at Syracuse. He had very limited playing time his first two years, and contemplated transferring to another school. Before his junior season, the talented Michael Lloyd transferred to Syracuse, and Sims found himself again on the bench. However, he stayed with the program and provided valuable minutes off the bench.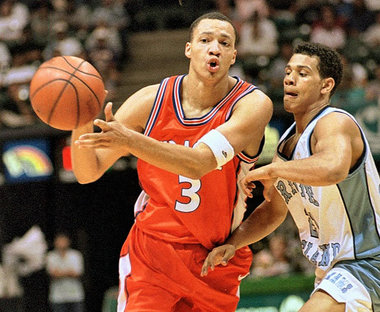 His senior season, all would change for Sims, as he became the starting point guard. Known for his high dribble and hunched style, he was adept at getting fellow senior John Wallace and center Otis Hill the ball down in the low post. He developed a respectable perimeter shot, and while he did not take it often, he made them when it counted. Ironically, for a player who did not score or rebound much, Sims was able to complete the rare triple double in a win over St. Johns on February 26th, with 17 pts, 10 assists and 11 rebounds.
Sims experience would pay off for the Orangemen when the NCAA tournament came around in 1996. He would guide the Orangemen to easy first round victories over Montana State and Drexel. The steady ball handling of Sims and the dominating play of Wallace was moving the Orangemen right along. Against Georgia they played one of the most memorable games in Syracuse history; Sims was significant in hitting two big three point shots in the second half comeback. They shocked Kansas in the Elite Eight, and beat Mississippi State in the Final Four to advance to the school's second NCAA Championship game. Kentucky was highly favored, yet Sims was able to keep the pace of the game running slow, and the Orangemen were able to keep it close. In the end, Kentucky's superior talent won out, but the Orangemen played with pride.
Following graduation, Sims had a free agent tryout with the NBA's Memphis Grizzlies. The effort failed, and he ended up playing in the CBA for a few seasons. In 2002, he joined the Harlem Globetrotters and played for them for a few seasons. He played for the ABA's Rochester Razorsharks in its inaugural season in 2005, and helped guide them to the ABA championship in 2006.
Sims was the coordinator of player developmentt at Syracuse for five seasons from 2007-2008 to 2011-2012. He was an assistant basketball coach at SUNY Bingham from 2012 to 2014.
© RLYoung 2006, 2007, 2015