| | |
| --- | --- |
| HS: Vermont Academy | Saxtons River, VT |
| HS: Passaic | Passaic, NJ |
Season Stats

| Season | Cl | Pos | G | GS | FG | FGA | % | FT | FTA | % | Fls | DQ | Pts | PPG |
| --- | --- | --- | --- | --- | --- | --- | --- | --- | --- | --- | --- | --- | --- | --- |
| 1932-33 | So | F | 16 | 15 | | | | | | | | | 131 | 8.2 |
| 1933-34 | Jr | F | 14 | 7 | | | | | | | | | 84 | 6.0 |
| 1934-35 | Sr | F | 14 | 12 | | | | | | | | | 131 | 9.4 |
| Career | | | 44 | 34 | 0 | 0 | 0.0 | 0 | 0 | 0.0 | 0 | 0 | 346 | 7.9 |
Johnny DeYoung was a flashy forward for Syracuse in the mid 1930's. DeYoung, nicknamed the 'Passaic Wonder' was an ambidextrous shooter and a speedy player. He possessed one of the best set shots on the team.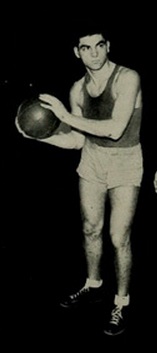 DeYoung was a starter all three years for the Orangemen, though injuries disrupted his play each season. He would hurt his ankle in a big win over Penn his sophomore season, causing him to miss his next start. He would lead the team with 10 points in a big win over Cornell on January 18th, and score a season high 21 points against Penn State in a blowout at the end of the season. DeYoung would lead the team in scoring that season with 8.2 points per game.
He injured his ankle early his junior season and missed a couple games. It would take him a while to recover, and he would play sparingly until the end of the season, affecting his overall output.
DeYoung's senior season started with a bang with 22 points in the Alumni game season opener. He would break a rib in a close win over Colgate, and would miss some games. He got back into the starting lineup for the big season finale against Colgate, and he would lead the team with 11 points in a lopsided 37-16 win over their rival. Despite missing a few games with his injury, he would still lead the team in scoring with 131 points.
DeYoung would be a teacher following graduation, and would coach high school basketball at Johnson City.
© RLYoung 2006, 2007, 2008, 2016