| | |
| --- | --- |
| HS: Jamesville-DeWitt | DeWitt, NY |
| | |
| --- | --- |
| Born: 10/16/1992 | Syracuse, NY |
Season Stats

| Season | Cl | Pos | G | GS | Min | FG | FGA | % | FT | FTA | % | 3Pt | 3PA | % | Asst | Reb | DReb | OReb | Fls | DQ | TO | ST | BS | Pts | PPG | APG | RPG |
| --- | --- | --- | --- | --- | --- | --- | --- | --- | --- | --- | --- | --- | --- | --- | --- | --- | --- | --- | --- | --- | --- | --- | --- | --- | --- | --- | --- |
| 2012-13 | Fr | C | 24 | 20 | 305 | 42 | 96 | | 30 | 65 | | 0 | 0 | | 4 | 95 | 58 | 37 | 30 | 0 | 23 | 13 | 9 | 114 | 4.8 | 0.2 | 4.0 |
| 2013-14 | So | C | 13 | 12 | 169 | 21 | 36 | | 14 | 28 | | 0 | 0 | | 3 | 54 | 23 | 31 | 23 | 0 | 11 | 4 | 7 | 56 | 4.3 | 0.2 | 4.2 |
| 2014-15 | Jr | DNP | 0 | 0 | 0 | 0 | 0 | | 0 | 0 | | 0 | 0 | | 0 | 0 | 0 | 0 | 0 | 0 | 0 | 0 | 0 | 0 | 0.0 | 0.0 | 0.0 |
| 2015-16 | Sr | C | 37 | 37 | 649 | 68 | 124 | | 46 | 70 | | 0 | 0 | | 15 | 173 | 105 | 68 | 102 | 4 | 41 | 26 | 33 | 182 | 4.9 | 0.4 | 4.7 |
| 2016-17 | Gr | F | 17 | 13 | 265 | 38 | 71 | 53.5% | 20 | 35 | 57.1% | 0 | 1 | | 3 | 81 | 50 | 31 | 37 | 0 | 23 | 7 | 9 | 96 | 5.6 | 0.2 | 4.8 |
| Career | | | 74 | 69 | 1123 | 131 | 256 | 51.2% | 90 | 163 | 55.2% | 0 | 0 | --- | 22 | 322 | 186 | 136 | 132 | 4 | 75 | 43 | 49 | 352 | 4.8 | 0.3 | 4.4 |
DaJuan Coleman was a center at Syracuse University. He was a McDonald's All-American in High School and the New York State High School Player of the Year in 2012.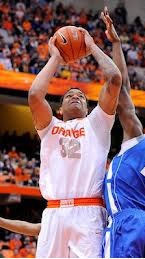 Coleman would start the first twenty games of his freshman season. He struggled with the defensive schemes of Syracuse's zone and with the increased speed of the game, and like Rakeem Christmas and Fab Melo before him, was often pulled within the first five minutes of the game, and he averaged only 13 minutes a game. He did have a season high 14 points in wins over Eastern Michigan and Monmouth. Coleman would hurt his knee in the Villanova game, which would result in the need for surgery. He would miss eight games while he recovered, and when he returned he did not regain his starting position. Though healthy, he would play only four of the last twelve games of the season.
Coleman would work hard over the summer rehabilitating his knee and losing weight to become more mobile and in better playing shape. He would be the starting center, but would rotate at the center position with Christmas and Baye Keita. His scoring percentage and rebounding were both up slightly with two games with 10 rebounds, but he was playing about 13 minutes a game because of the split time. He would injure his leg in the Villanova game, with what was reported as a bruised bone. After resting a couple of games, he played a few minutes in the Virginia Tech game. However, he still was feeling pain, and on January 20th it was determined that he needed surgery, and his season was done.
Coleman would miss all of the 2014-2015 season rehabilitating his leg.
Coleman would slowly work back into playing shape during his senior year. He would start every game, but it was evident he was very rusty; he was very foul prone. Despite his size, he was not very aggressive inside, and he was not able to jump much. He would play about 15-20 minutes every game, and was counted on to provide some interior defense, plus give some relief for Tyler Roberson and Tyler Lydon, as the team was very thin with big man depth. His best all around game was against Pitt in the ACC tournament; he would pull down a season high 11 rebounds along with scoring 11 points in the Orange's close 72-71 loss.
He would earn his degree after the 2016-17 season, but still had a year of eligibility remaining, so Coleman returned as a fifth year graduate student. He had worked out hard in the off season, and it showed that he had lost more weight and looked good. Coleman showed he had continued to improve from his injury. He would start the first thirteen games of the season. He scored a career high 16 points against North Florida, and had a career best fifteen rebounds against UConn. However, his knees were bothering him again. He was not able to run the court effectively to get back on defense, and he could not play every game. He would lose his starting position to Taurean Thompson as Jim Boeheim shook up the roster, and Coleman would play in only four more games that season. Thompson and Lydon would play the bulk of the center time for the remainder of the year.
© RLYoung 2012, 2013, 2014, 2015, 2016, 2017