| | | |
| --- | --- | --- |
| 6'9" | 222 lbs | Forward/Center |
| | |
| --- | --- |
| HS: Academy of the New Church | Bryn Athyn, PA |
| HS: North Catholic | Philadelphia, PA |
| | |
| --- | --- |
| Born: 12/1/1991 | Irvington, NJ |
Season Stats

| Season | Cl | Pos | G | GS | Min | FG | FGA | % | FT | FTA | % | 3Pt | 3PA | % | Asst | Reb | DReb | OReb | Fls | DQ | TO | ST | BS | Pts | PPG | APG | RPG |
| --- | --- | --- | --- | --- | --- | --- | --- | --- | --- | --- | --- | --- | --- | --- | --- | --- | --- | --- | --- | --- | --- | --- | --- | --- | --- | --- | --- |
| 2011-12 | Fr | F | 37 | 35 | 425 | 43 | 75 | | 16 | 28 | | 0 | 0 | | 7 | 108 | 68 | 40 | 63 | 4 | 23 | 11 | 30 | 102 | 2.8 | 0.2 | 2.9 |
| 2012-13 | So | F/C | 40 | 40 | 833 | 87 | 164 | | 31 | 54 | | 0 | 0 | | 9 | 183 | 111 | 72 | 100 | 3 | 35 | 20 | 73 | 205 | 5.1 | 0.2 | 4.6 |
| 2013-14 | Jr | F/C | 34 | 34 | 803 | 76 | 124 | | 45 | 62 | | 0 | 0 | | 23 | 172 | 101 | 71 | 107 | 2 | 26 | 16 | 66 | 197 | 5.8 | 0.7 | 5.1 |
| 2014-15 | Sr | C | 31 | 31 | 1064 | 203 | 368 | | 136 | 191 | | 0 | 1 | | 47 | 282 | 185 | 97 | 105 | 5 | 78 | 29 | 78 | 542 | 17.5 | 1.5 | 9.1 |
| Career | | | 142 | 10 | 3125 | 409 | 731 | 56.0% | 228 | 335 | 68.1% | 0 | 1 | 0.0% | 70 | 745 | 465 | 280 | 375 | 14 | 162 | 76 | 247 | 1046 | 7.4 | 0.5 | 5.2 |
Rakeem Christmas was a power forward and center for Syracuse basketball. He was a very athletic player who developed into an outstanding college center by his senior year.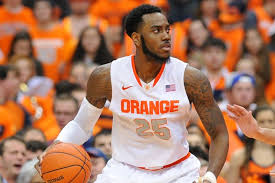 Christmas was a McDonald's All-American in high school and came to Syracuse with high expectations. He began his freshman season as the power forward in the starting lineup, replacing Rick Jackson, who had graduated the year before. This was no small feat as Jackson was the Big East Defensive Player of the Year. Christmas would struggle early in the year with trying to adapt to the nuances of his defensive responsibilities in the zone, and in adjusting to rebounding in college. Unfortunately for Christmas, coach Jim Boeheim had one of his deepest benches ever, and this gave Boeheim plenty of players to substitute for Christmas when he struggled. As they year progressed, Christmas would see less and less playing time, often playing just the first few minutes of a game, and then sitting for the remainder. His role would increase in the post season when Fab Melo was suspended by the team. Christmas' best game of the year was against Kansas State in the second round of the NCAA tournament, when he pulled down 11 rebounds and played some solid defense.
Christmas improved his sophomore year but not quite up to fans expectations. He averaged a little over 20 minutes a game, despite starting every game of the season. His defensive game had improved, but offensively he still struggled. He moved defensively to the center position when Dajuan Coleman was out for injury, and would remain the starting center for the rest of the season.
There were again expectations that Christmas would step up his junior season, and help with an inside scoring presence. However, early in the season he was still drawing Boeheim's wrath, and was often failing to play more than 20 minutes in a game. Christmas was an efficient scorer inside, but he was not aggressive, and often still an offensive liability. Christmas' natural position was forward, but when Coleman again went down with a season ending injury, Christmas moved to the center position.
Injuries later in the season to Jerami Grant's back forced Christmas into even more playing time, and he did have some outstanding efforts in big games. In the first ACC game against Duke, Christmas had 10 rebounds and 6 blocked shots in the overtime win. He helped frustrate the Duke front line, and forced them into foul trouble.
Christmas' biggest game was against North Carolina State. He would steal the Wolfpack's inbound pass with under ten seconds to go and feed the ball to C.J. Fair who would lay it in for the Orange's 56-55 victory, and school record 25th in a row. Christmas would have a season high 14 points, 12 rebounds and 7 blocks as he made his presence felt all game long.
Christmas would make a significant jump his senior year, going from being an underachieving starter to being an All American. Christmas would emerge as a tremendous offensive threat along with being a strong defensive presence. Offensively he had developed a beautiful hook shot. He was frequently double teamed, occasionally triple teamed, and yet he found ways to spin past a defender for a layup or get open for his hook shot. He would score a career high 35 points against Wake Forest, leading the Orange to a 86-83 overtime win. Once Chris McCullough tore his ACL, and DaJuan Coleman was medically unable to play for the season, Syracuse had no back up center to Christmas. Christmas would often get in foul trouble late in games, and he had to play smart to stay on the court. Even then, he still fouled out of five games, as the time took its toll.
Christmas' best game of the season may have been his effort when the Orange upset #12 Louisville at the Carrier Dome. He would score 29 points, hitting 9 of 10 field goal attempts and making 11 of 13 free throws. He also added four blocked shots and pulled down 8 rebounds.
Christmas earned several accolades after the season. He was named the ACC's Most Improved Player, and was named to the ACC First Team. He was a Third Team AP All American and Third Team Sporting News All American.
Christmas would be drafted in the 2nd round of the 2015 NBA draft with the 36th overall pick by the Minnesota Timberwolves. He was then immediately traded to the Cleveland Cavaliers, and then a month later traded to the Indiana Pacers. He would make his NBA debut in the last game of the 2015-2016 season playing six minutes.
NBA Career Statistics

| Season | Team | Pos | G | Min | FG | FGA | % | FT | FTA | % | 3FGA | 3FGM | % | Asst | Reb | Fls | DQ | TO | ST | BS | Pts | PPG | APG | RPG |
| --- | --- | --- | --- | --- | --- | --- | --- | --- | --- | --- | --- | --- | --- | --- | --- | --- | --- | --- | --- | --- | --- | --- | --- | --- |
| 2015-16 | Indiana | F | 1 | 6 | 2 | 2 | 100% | 0 | 0 | --- | 0 | 0 | --- | 0 | 1 | 1 | 0 | 0 | 0 | 0 | 4 | 4.0 | 0.0 | 1.0 |
| 2016-17 | Indiana | F | 29 | 219 | 19 | 43 | 44.2% | 21 | 29 | 72.4% | 0 | 0 | --- | 4 | 56 | 37 | - | 8 | 3 | 6 | 59 | 2.0 | 0.1 | 1.9 |
| Total | | F | 30 | 225 | 21 | 45 | 46.7% | 21 | 29 | 72.4% | 0 | 0 | --- | 4 | 57 | 38 | 0 | 8 | 3 | 6 | 63 | 3.1 | 0.1 | 1.9 |
© RLYoung 2011-2016, 2017