| | |
| --- | --- |
| HS: Roselle Catholic | Roselle, NJ |
| | |
| --- | --- |
| Born: 11/27/1994 | Union, NJ |
Season Stats

| Season | Cl | Pos | G | GS | Min | FG | FGA | % | FT | FTA | % | 3Pt | 3PA | % | Asst | Reb | DReb | OReb | Fls | DQ | TO | ST | BS | Pts | PPG | APG | RPG |
| --- | --- | --- | --- | --- | --- | --- | --- | --- | --- | --- | --- | --- | --- | --- | --- | --- | --- | --- | --- | --- | --- | --- | --- | --- | --- | --- | --- |
| 2013-14 | Fr | F | 20 | 1 | 162 | 14 | 47 | | 15 | 22 | | 0 | 5 | | 5 | 38 | 24 | 14 | 17 | 0 | 7 | 4 | 4 | 43 | 2.2 | 0.3 | 1.9 |
| 2014-15 | So | F | 28 | 19 | 803 | 93 | 210 | 44.3% | 47 | 70 | 64.3% | 0 | 3 | | 45 | 203 | 124 | 79 | 57 | 1 | 33 | 25 | 18 | 231 | 8.3 | 1.6 | 7.3 |
| 2015-16 | Jr | F | 37 | 37 | 1140 | 133 | 254 | 52.4% | 60 | 104 | 57.7% | 0 | 2 | | 50 | 313 | 163 | 150 | 84 | 3 | 57 | 28 | 24 | 326 | 8.8 | 1.4 | 8.5 |
| 2016-17 | Sr | F | 34 | 6 | 692 | 77 | 136 | 56.6% | 25 | 56 | 44.6% | 0 | 0 | | 30 | 167 | 103 | 64 | 70 | 0 | 37 | 18 | 27 | 179 | 5.3 | 0.9 | 4.9 |
| Career | | | 119 | 63 | 2797 | 317 | 647 | 48.9% | 147 | 252 | 58.3% | 0 | 10 | 0.0% | 130 | 721 | 414 | 307 | 228 | 4 | 134 | 75 | 73 | 779 | 6.5 | 1.1 | 6.1 |
Tyler Roberson was a forward as Syracuse University. He was an inconsistent player known for solid defense and aggressive rebounding, mixed in with some low effort games.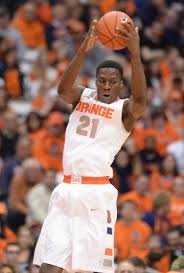 Roberson was the top reserve freshman his first year (classmate Tyler Ennis started). Roberson showed flashes of his speed and quickness to the hoop, but was inconsistent and did not get much playing time. He did get a start late in the season against Georgia Tech as an ailing Jerami Grant could not start, but Roberson did not contribute much in that game.
Roberson would begin his sophomore season as a starter. He would struggle for most of the non-conference games, and an abdominal strain would force him to miss three games. He was replaced by sixth man Michael Gbinije in the starting lineup. Roberson would have a breakout performance from the bench against Louisiana Tech with 14 points and 17 rebounds. Roberson would move back into the starting lineup in January after Chris McCullough's season ended with a torn ACL.
He would play inconsistently for most of the middle of the season. He would finish the season strong scoring ten or more points in five of the last seven games. The highlight of that stretch was a 19 point and 10 rebound effort in a loss against Duke.
Roberson's junior season would be one full of frustration for coach Jim Boeheim and for the Syracuse fans. Roberson's performance was inconsistent, and typically it appeared to be tied to effort. This caused Boeheim to comment regarding Roberson that "If I had anyone else he wouldn't play a minute" [1]. Roberson started the year off well; he had 12, 16 and 11 rebounds in three of his first four games, and scored a career high 20 against Elon. His offensive abilities really hadn't improved, but his hustle near the basket game him opportunities for easy baskets. He was third in the country in total offensive rebounds.
Unfortunately there were games he lacked the effort, mixed in with those games where he played well. Assistant coach Mike Hopkins referred to Roberson as being "plugged in" when he played well, a phrase that many fans would use for the rest of the season. [2] Fans would hope a "plugged in Robey" would show up for the game. Syracuse typically would play well when that scenario occurred, and the team would struggle when he wasn't. He provided the offensive and defensive rebounding the team needed, and it was critical for him to be successful. Roberson's top effort of the year was his 20 rebound performance against #20 Duke, allowing the Orange to upset the Blue Devils 64-62 at Cameron Arena. Roberson set a record for most rebounds by an opposing player at Cameron, with that effort.
Roberson really struggled down the stretch of the season, and he saw his playing time reduce as result. The Orange also suffered several losses during that period. Roberson turned it around for the NCAA tournament, and helped the Orange to a first round win over Dayton with an 18 rebound, 10 point performance. He played strong through the entire NCAA tournament, averaging over 11 rebounds a game. He pulled down an impressive 12 rebounds against Gonzaga's big front line in the Sweet Sixteen.
Syracuse was counting on Roberson to improve his scoring ability for his senior year and provide more consistency of effort. He would open the season with a big game against Colgate, leading the Orange in scoring with 18 points, though he had only four rebounds. By the sixth game of the season, his scoring had dropped off considerably, and his rebounding was quite inconsistent again. The team needed the additional scoring, and so freshman Tyus Battle moved into the starting lineup, moving Andrew White III to forward and bumping Roberson from the starting lineup. Roberson would remain a vital part of the team's seven man rotation, playing about 18 to 25 minutes a game.
Roberson would play professional ball in the G-League for the Ontario Clippers, South Bay Lakers, and Delaware Blue Coats. He played overseas in Greece, France, Estonia, and Hungary.[3]
© RLYoung 2013, 2014, 2015. 2016, 2017, 2023
[1] Syracuse.com, February 20, 2016
[2] Syracuse Daily Orange, December 31, 2015
[3] Proballers.com, Tyler Roberson Stats