| | |
| --- | --- |
| HS: New Hampton Prep | New Hampton, NH |
| HS: Stissing Mountain | Pine Plains, NY |
Season Stats

| Season | Cl | Pos | G | GS | Min | FG | FGA | % | FT | FTA | % | 3Pt | 3PA | % | Asst | Reb | DReb | OReb | Fls | DQ | TO | ST | BS | Pts | PPG | APG | RPG |
| --- | --- | --- | --- | --- | --- | --- | --- | --- | --- | --- | --- | --- | --- | --- | --- | --- | --- | --- | --- | --- | --- | --- | --- | --- | --- | --- | --- |
| 2015-16 | Fr | C/F | 37 | 0 | 1122 | 127 | 265 | | 72 | 93 | | 49 | 121 | | 41 | 233 | - | - | 101 | 2 | 47 | 42 | 67 | 375 | 10.1 | 1.1 | 6.3 |
| 2016-17 | So | F/C | 34 | 34 | 1227 | 151 | 319 | 47.3% | 97 | 116 | 83.6% | 49 | 124 | | 70 | 294 | 215 | 79 | 84 | 0 | 59 | 35 | 49 | 448 | 13.2 | 2.1 | 8.6 |
| Career | | | 71 | 34 | 2349 | 278 | 584 | 47.6% | 169 | 209 | 80.9% | 98 | 245 | 40.0% | 111 | 527 | +215 | +79 | 185 | 2 | 106 | 77 | 116 | 823 | 11.6 | 1.6 | 7.4 |
Tyler Lydon is a forward for Syracuse University basketball. He is a fast forward with quick leaping and excellent perimeter shooting skills.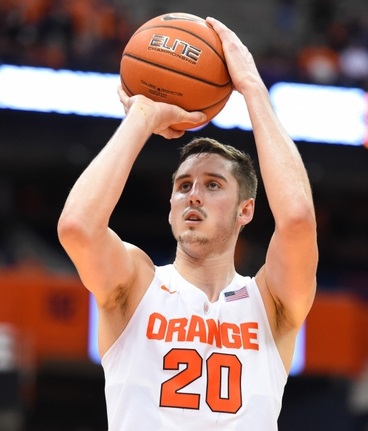 Lydon would play a lot of center his freshman season out of necessity as the Orange lacked depth at that position. Though he was smaller and thinner than most his competition, Lydon did well in that position. He was very quick and aggressive on defense, and displayed a lot of hustle on the court. Jim Boeheim liked to bring him off the bench to provide change a pace; Lydon, would played the equivalent of starter's minutes, averaging about 30 per game.
Lydon showed he was an outstanding perimeter shooter hitting over 40% of his shots; because of his size and the position he played, this caused defensive mismatch opportunities the team could take advantage of. However, at times too passive on offense, passing up on open shot opportunities for the perimeter. His best all around game was in a win over Notre Dame where he scored 15 point and had 10 rebounds, making 50% of his shots.
Lydon's defensive presence increased significantly during the NCAA tournament, as he became more adept at blocking shots. He blocked six shots against Middle Tennessee State in the second round, six more shots against Gonzaga's big front line in the Sweet Sixteen, and five shots against Virginia in the Elite Eight. Overall he would block 19 shots in the Orange's run to the Final Four in the NCAA tournament. Lydon also made highlight reels as he lost his shoe during the Virginia game, and continued to play, making a three point shot with his shoe missing. [1]
Lydon declared for the NBA draft after his sophomore season. He would be drafted in the 1st round with the 24th overall pick by the Denver Nuggets.
© RLYoung 2015, 2016, 2017
[1] Syracuse.com, March 27, 2016