| | |
| --- | --- |
| 1917-1918 Syracuse Orangemen | |
Coach: Ed Dollard
Ed Dollard had lower expectations for the squad as he had lost three starters from the previous year, including top scorer Wilbur Crisp and the speedy Billy Rafter. He and Syracuse fans would instead be in for a pleasant surprise.
Led by All-American captain Joe Schwarzer the 1917-1918 team went 16-1 and was voted the National Champions of college basketball by the Helms Foundation. Schwarzer was an excellent ball handler and free throw shooter, and the offense flowed through him. Johnny Cronauer and Charley Dolley were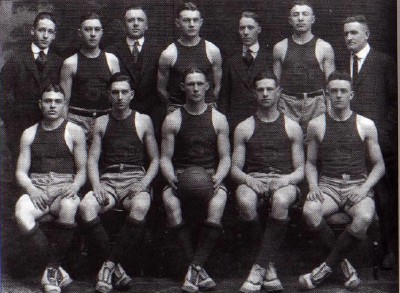 excellent shooters, Cronauer leading the team in scoring from the court (Schwarzer had the most total points). Bob Marcus and John Barsha formed one of the strongest defensive guard combinations in the country, and were adept at shutting down the opposing players.
They would continue winning all season and have 23 consecutive wins. Schwarzer would miss a few games late in the season due to measles, and Marcus would replace him at center.
Syracuse's lone defeat that year came to Penn, in a game they lost 17-16 on the last game of the season. Penn's star player Sweeney made 15 of 16 free throws in the game; Penn had only one field goal in the victory. Schwarzer, normally a solid free throw shooter went 5-13 that day.
The Orangemen had easily beaten Penn earlier in the season (with a final score that looked closer than what actually happened)..
©RLYoung 2005, 2006