| | |
| --- | --- |
| Born: 9/7/1895 | Austro-Hungary |
Season Stats

| Season | Cl | Pos | G | GS | FG | FGA | % | FT | FTA | % | Pts | PPG |
| --- | --- | --- | --- | --- | --- | --- | --- | --- | --- | --- | --- | --- |
| 1915-16 | Fr | C | 12 | 12 | 24 | | | 0 | | --- | | |
| 1916-17 | So | C | 14 | 14 | 23 | | | 0 | | --- | | |
| 1917-18 | Jr | C | 15 | 15 | 45 | | | 61 | | | 151 | 10.1 |
| Career | | | 41 | 41 | 92 | 0 | 0.0 | 61 | 0 | 0.0 | 245 | 6.0 |
Joe Schwarzer was a two time All-American at Syracuse, and captained the 1918 National Championship team. Schwarzer was considered an excellent ball handler and was the free throw shooting expert on the team (at that time, one player was designated to shoot all the free throws for a team). He was considered the best center in the East while he

played.
Schwarzer excelled in many sports, and was considered a solid student. Besides lettering in basketball, he also lettered in football (four times) and in baseball (and was captain of all three teams). He was an All-American End on the football team in 1918, a team that went 8-1-1. Schwarzer earned his Law Degree at Syracuse.
He was declared ineligible to play his senior season in basketball by the university due to a ruling by the Athletic Committee that he had used up his varsity eligibility by starting for three seasons already. He graduated with a law degree from Syracuse in 1919.
Schwarzer was born in the Austro-Hungary Empire, and moved to the United States when he was four.
He was the the head coach of the freshman basketball team in 1924, as the team went 17-0 with a young Vic Hanson leading the way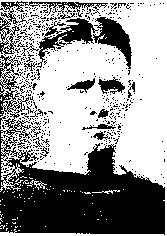 . He was briefly an assistant football coach at Syracuse from 1923 to 1925, and then for a while at New York University. He later was the head football coach at Manhattan College in 1927. Schwarzer was a college football umpire from the 1940's until his retirement in the mid 1960's. He played professional basketball for different teams around New York from 1919 to 1923.
Schwarzer was named to the Syracuse All-Century Basketball Team in 2000, and was a Lettermen of Distinction winner in 1974. He was inducted into the Syracuse Sports Hall of Fame in 2006.
Schwarzer passed away in 1989.
© RLYoung 2005, 2006, 2016, 2018