| | |
| --- | --- |
| HS: Central High | Syracuse, NY |
Season Stats

| Season | Cl | Pos | G | GS | FG | FGA | % | FT | FTA | % | Fls | DQ | Pts | PPG |
| --- | --- | --- | --- | --- | --- | --- | --- | --- | --- | --- | --- | --- | --- | --- |
| 1915-16 | So | F/G | 1 | 0 | 0 | | | 0 | 0 | --- | | | 0 | 0.0 |
| 1917-18 | Sr | F/G | 5 | 2 | 5 | | | 0 | 2 | 0.0% | | | 10 | 2.0 |
| Career | | | 6 | 2 | 5 | 0 | 0.0 | 0 | 2 | 0.0% | 0 | 0 | 10 | 1.7 |
Herman Brickman was a reserve player for Syracuse basketball for two seasons. Brickman was a good all around athlete lettering in basketball (once) and football (twice). He was a tackle on the varsity football team.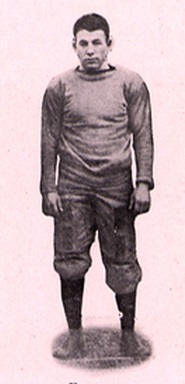 He was the top reserve on the 1917-18 National championship team. He would have a career high 8 points against New York University in a 30-15 win over the Violets on February 9th, 1918.
Brickman would graduate from Syracuse in 1918. He became a successful lawyer in Kings Point, New York, and was a leader in the field of American labor arbitration [1].
Brickman would gain some fame after graduation when he risked his life to save another man from drowning. Brickman was swimming when he notice M.E. Stack was struggling, about three quarters of a mile off shore. He would swim out and rescue the man, in the process nearly killing himself.
Brickman passed away in September 1981.
[1] Obituary in November 10, 1981 Syracuse Herald Journal.
© RLYoung 2008