| | |
| --- | --- |
| HS: Central | Syracuse, NY |
| HS: Manlius Military Academy | Manlius, NY |
| | |
| --- | --- |
| Born:7/20/1903 | Watertown, NY |
Season Stats

| Season | Cl | Pos | G | GS | FG | FGA | % | FT | FTA | % | Fls | DQ | Pts | PPG |
| --- | --- | --- | --- | --- | --- | --- | --- | --- | --- | --- | --- | --- | --- | --- |
| 1924-25 | So | F | 15 | | | | | | | | | | 203 | 13.5 |
| 1925-26 | Jr | F | 20 | 20 | 98 | | | 86 | | | | | 282 | 14.2 |
| 1926-27 | Sr | F | 19 | 19 | | | | | | | | | 277 | 14.6 |
| Career | | | 54 | +39 | 0 | 0 | 0.0 | 0 | 0 | 0.0 | 0 | 0 | 762 | 14.1 |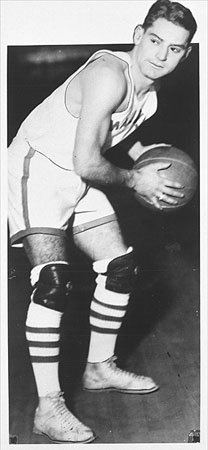 He was called by renowned Grantland Rice, "the best all-around athlete Syracuse ever had." Vic Hanson was a three sport star for the Orangemen. In addition to being a 3 time All-American forward in basketball, he was a 3 time All-America end in football and good enough in baseball to be signed by the New York Yankees. Hanson was extremely fast and strong, with great coordination and athleticism. He was a great shooter and excellent ball handler.
Hanson was a legend in Syracuse before going to the university. He was a three sport star athlete at Syracuse's Central High and the Manlius Military Academy. Hanson once scored 31 of the 32 points his team scored in a high school game.
Hanson led Syracuse to a National Championship in basketball his junior season along with Charlie Lee and Gotch Carr. Hanson set a school record with 282 points and 14.2 ppg, as the Orangemen went 19-1, along with a school record 25 points in a game. Though he was frequently double teamed, he still scored the majority of the points, and was an excellent play maker. Upon his graduation, he was the school's all time leading scorer with 762 career points, with an average of 14.1 points per game.
In 1926, his senior year, Hanson was named the Helms Athletic Foundation Player of the Year. Hanson was the captain of the basketball, football, and baseball teams at various points in his career.
After graduation he played one year in baseball's minor leagues in the New York Yankee farm system. He also played professional basketball for one season in the ABL with Cleveland. He returned to Syracuse as an assistant coach in 1928 and 1929. In 1930, at the age of 27, Hanson was named Syracuse's head football coach. In seven seasons he posted a 33-21-5 record. He later became a prominent insurance counselor, a teacher/educator and a high school basketball coach.

Hanson is the only man inducted into the National Basketball Hall of Fame (1960) and the College Football Hall of Fame (1973). His jersey was retired by Syracuse in 1981, and was inducted into the Syracuse Hall of Fame in 1987.
He was named to Grantland Rice's All-Time All-American team, along with George Mikan, Bob Kurland, Hank Luisetti and John Wooden (1952)
Hanson passed away in 1982.
©RLYoung 2005, 2007, 2016