| | |
| --- | --- |
| HS: St. Joseph's | Metuchen, NJ |
| HS: Gil St. Bernard | Gil, NJ |
| | |
| --- | --- |
| Born: 9/1997 | Livingston, NJ |
Season Stats

| Season | Cl | Pos | G | GS | Min | FG | FGA | % | FT | FTA | % | 3Pt | 3PA | % | Asst | Reb | DReb | OReb | Fls | DQ | TO | ST | BS | Pts | PPG | APG | RPG |
| --- | --- | --- | --- | --- | --- | --- | --- | --- | --- | --- | --- | --- | --- | --- | --- | --- | --- | --- | --- | --- | --- | --- | --- | --- | --- | --- | --- |
| 2016-17 | Fr | G | 34 | 25 | 1044 | 127 | 293 | 43.3% | 71 | 89 | 79.8% | 60 | 164 | | 58 | 72 | 61 | 11 | 66 | 0 | 39 | 44 | 8 | 385 | 11.3 | 1.7 | 2.1 |
| Career | | | 34 | 25 | 1044 | 127 | 293 | 43.3% | 71 | 89 | 79.8% | 60 | 164 | 36.6% | 58 | 72 | 61 | 11 | 66 | 0 | 39 | 44 | 8 | 385 | 11.3 | 1.7 | 2.1 |
Tyus Battle is a guard for Syracuse University basketball.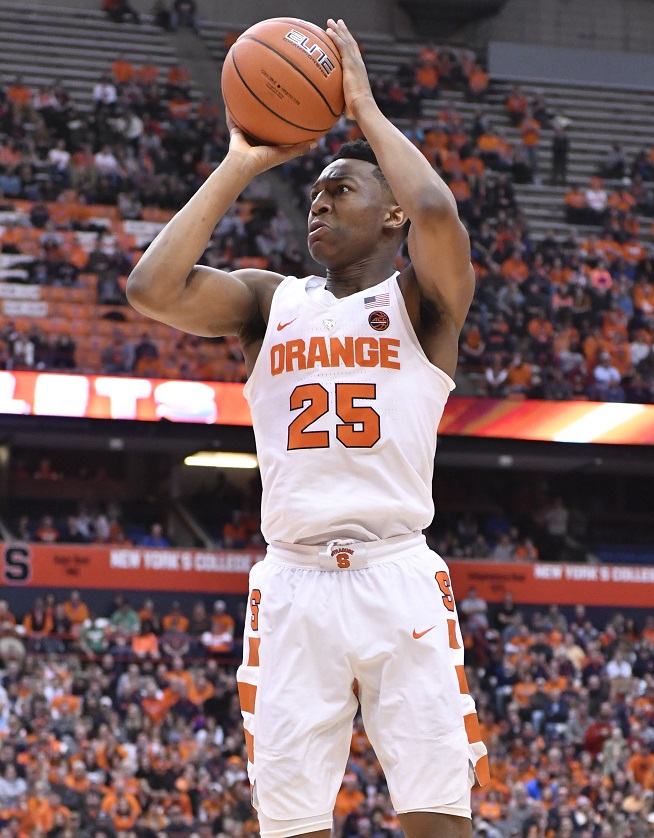 Battle came to Syracuse with a reputation for being a strong driver to the basket with an average jump shot. Early in his freshman season he was tentative on the court, and inconsistent with his offensive efforts. However, he was moved into the starting lineup in the seventh game of the season, as coach Jim Boeheim wanted an additional player with offensive skills on the court.
By time the ACC season started, Battle was a consistent offensive threat for the Orange. His ability to drive to the hoop was helping to open the perimeter game for the rest of the players. Battle would have an outstanding game against #6 Virginia scoring a season high 23 points in leading the Orange to the upset win. The next game against Clemson, he struggled with the flu, and had a tough time making his shots. The Orange were down by two points, when Tyler Lydon drove to the hoop, and passed the ball to an Battle in the right corner. Battle would make the three point shot at the buzzer as the Orange beat the Tigers 82-81.
The illness would hamper Battle the next two games as he would score only 5 points, and the Orange were upset by Pitt and lost to #8 Louisville in overtime. Battle would recover, and finish the season strong with twenty-plus points in three of the last five games.
© RLYoung 2016, 2017