| | |
| --- | --- |
| HS: St. Joseph's | Metuchen, NJ |
| HS: Gil St. Bernard | Gil, NJ |
| | |
| --- | --- |
| Born: 9/1997 | Livingston, NJ |
Season Stats

| Season | Cl | Pos | G | GS | Min | FG | FGA | % | FT | FTA | % | 3Pt | 3PA | % | Asst | Reb | DReb | OReb | Fls | DQ | TO | ST | BS | Pts | PPG | APG | RPG |
| --- | --- | --- | --- | --- | --- | --- | --- | --- | --- | --- | --- | --- | --- | --- | --- | --- | --- | --- | --- | --- | --- | --- | --- | --- | --- | --- | --- |
| 2016-17 | Fr | G | 34 | 25 | 1044 | 127 | 293 | 43.3% | 71 | 89 | 79.8% | 60 | 164 | | 58 | 72 | 61 | 11 | 66 | 0 | 39 | 44 | 8 | 385 | 11.3 | 1.7 | 2.1 |
| 2017-18 | So | G | 37 | 37 | 1443 | 234 | 586 | 39.9% | 167 | 199 | 83.9% | 77 | 239 | | 76 | 108 | 91 | 17 | 74 | 2 | 87 | 54 | 7 | 712 | 19.2 | 2.1 | 2.9 |
| Career | | | 71 | 62 | 2487 | 361 | 879 | 41.1% | 238 | 288 | 82.6% | 137 | 403 | 34.0% | 134 | 180 | 152 | 28 | 140 | 2 | 126 | 98 | 15 | 1097 | 15.5 | 1.9 | 2.5 |
Tyus Battle is a guard for Syracuse University basketball. He was known for his scoring abilities, particularly being able to beat his defender off the dribble and drive the lane.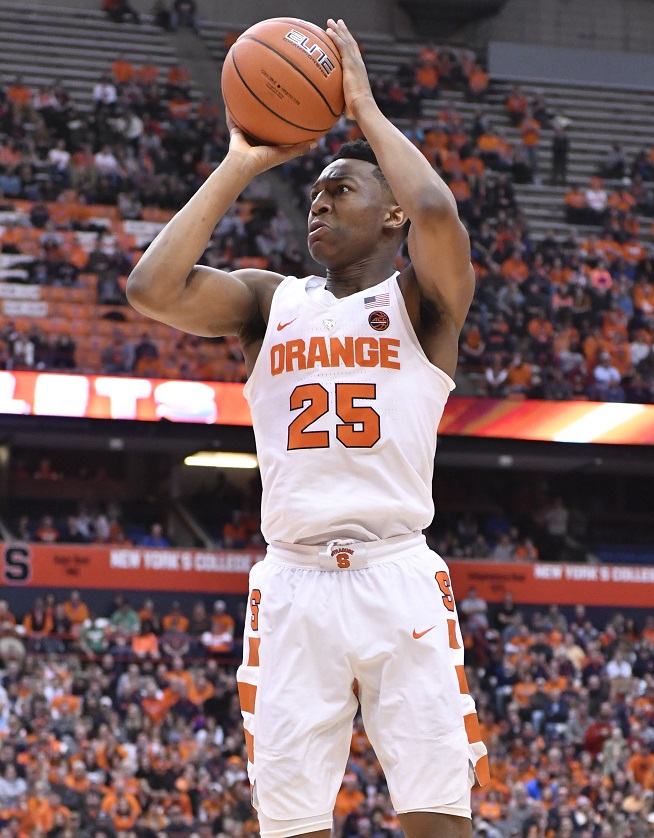 Battle came to Syracuse with a reputation for being a strong driver to the basket with an average jump shot. Early in his freshman season he was tentative on the court, and inconsistent with his offensive efforts. However, he was moved into the starting lineup in the seventh game of the season, as coach Jim Boeheim wanted an additional player with offensive skills on the court.
By time the ACC season started, Battle was a consistent offensive threat for the Orange. His ability to drive to the hoop was helping to open the perimeter game for the rest of the players. Battle would have an outstanding game against #6 Virginia scoring a season high 23 points in leading the Orange to the upset win. The next game against Clemson, he struggled with the flu, and had a tough time making his shots. The Orange were down by two points, when Tyler Lydon drove to the hoop, and passed the ball to an Battle in the right corner. Battle would make the three point shot at the buzzer as the Orange beat the Tigers 82-81.
The illness would hamper Battle the next two games as he would score only 5 points, and the Orange were upset by Pittsburgh and lost to #8 Louisville in overtime. Battle would recover, and finish the season strong with twenty-plus points in three of the last five games.
Battle would be the lone returning starter his sophomore season, and was the 'go to' guy on offense. The Orange had little depth at guard, and due to injuries and players leaving the team, he would find himself in the position of having to play virtually every minute of every game as the season progressed; as a result, he would lead the nation in minutes played per game.
Battle would demonstrate a strong ability to drive to the hoop, and to beat a defender one-on-one. His perimeter shooting would start to struggle as the season progressed, but he still was counted on to make the big shots towards the end of the game, and he often delivered. Battle would score a career high 37 points in a double overtime loss to Florida State. He would later score 34 points in a win over Wake Forest. Battle was instrumental in the Orange's upset over Michigan State in the NCAA tournament. Syracuse point guard Frank Howard fouled out with over six minutes to go in the game, so coach Boeheim put the control of the offense in Battle's hands. The Orange would come from behind and win the game.
Battle was named All ACC Second team after his sophomore season.
© RLYoung 2016, 2017, 2018