| | |
| --- | --- |
| HS: Summitville | Summitville, IN |
Roy Danforth took the Syracuse basketball program to new heights, and installed a sense of flair in the process. The SU program fell on to a couple of hard years at the end of Fred Lewis' reign, and Danforth rebuilt from there. He took the program to two consecutive NIT Tournaments, and then in 1973 brought them back to the NCAA. Danforth was a fan of the 2-3 zone, and Syracuse used it extensively.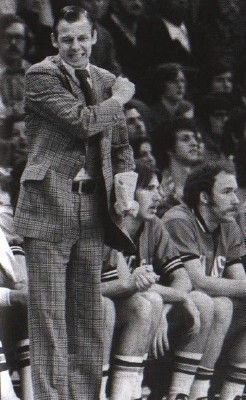 It was in 1975, however, when the program hit the national radar with its first appearance in the NCAA Final Four. As Danforth would say, "it was a good team that got very hot". That team, led by seniors Rudy Hackett and Jimmy Lee, shocked teams, and made a surprise visit to the Final Four.
Danforth had a quick wit, and had a bit of showman in him. He helped develop Manley Field House into a huge home court advantage for Syracuse. He encouraged point guard Dennis Duval to put on a Globetrotter-style exhibition during warmups before every game. The Manley "Zoo" started to come into its own, and Danforth could often be seen from the sidelines leading them on in cheer.
After high school, Danforth enlisted in the Army, and was part of the 11th Airborne division for three years.
Danforth was an solid college basketball player, playing for Fred Lewis down at Southern Mississippi, from 1959-1962. Danforth scored 1,066 points in his career, and was an solid free throw shooter at 75%. He was a four year starter, team captain his senior season, and earned honorable mention All-America honors that season.
Danforth was the head coach at Pearl River Junior College (MS) 1963. In 1964, he came up to Syracuse to join his mentor Lewis as an assistant. He coached the 1967-68 freshman squad to a 15-1 record, and would have a four year freshman squad record of 57-8.
After the 1976 season, Danforth left Syracuse to be the head coach down at Tulane University for 6 seasons; he never reached the success there he had at SU with a record of 45-90, though he did turn it into an NIT caliber program. From 1981-1986, he was the assistant athletic director at Tulane. In 1987 he became the Athletic Director at Farleigh Dickinson, where he had 8 successful seasons. He was named the Northeast Conference's Athletic Director of the Year six out of the eight years he was there.
His son Mike would play at Syracuse in 1976.
Danforth was inducted into the Farleigh Dickson University Hall of Fame, and in 2004 was inducted into the Indiana Basketball Hall of Fame. His NCAA record as a basketball coach was 193-161 over 13 seasons.
©RLYoung 2005, 2006, 2007