| | |
| --- | --- |
| HS: Highland | Anderson, IN |
Season Stats

| Season | Cl | Pos | G | GS | FG | FGA | % | FT | FTA | % | Asst | Reb | Fls | DQ | TO | ST | BS | Pts | PPG | APG | RPG |
| --- | --- | --- | --- | --- | --- | --- | --- | --- | --- | --- | --- | --- | --- | --- | --- | --- | --- | --- | --- | --- | --- |
| 1975-76 | So | G | 7 | 0 | 1 | 6 | 16.7% | 0 | 0 | --- | 2 | 0 | 3 | 0 | 1 | 0 | 0 | 2 | 0.3 | 0.3 | 0.0 |
| Career | | | 7 | 0 | 1 | 6 | 16.7% | 0 | 0 | --- | 2 | 0 | 3 | 0 | 1 | 0 | 0 | 2 | 0.3 | 0.3 | 0.0 |
Mike Danforth was a reserve guard for Syracuse basketball for one season. He was the son of the head coach Roy Danforth.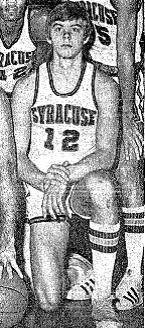 Danforth played on the junior varsity team his freshman season. He scored 27 points against Colgate in an overtime win that season.
He played in seven games on the varsity his sophomore season, only in the last few minutes of games. His only points on varsity would occur on a jumper late in the game against Stonehill. He left Syracuse when his father left as the head coach to go to Tulane University. He would play two seasons as a reserve at Tulane, in 1978 and 1979.
Tulane Statistics

| Season | Cl | Pos | G | GS | FG | FGA | % | FT | FTA | % | Asst | Reb | Fls | DQ | TO | ST | BS | Pts | PPG | APG | RPG |
| --- | --- | --- | --- | --- | --- | --- | --- | --- | --- | --- | --- | --- | --- | --- | --- | --- | --- | --- | --- | --- | --- |
| 1977-78 | Jr | G | 22 | - | 10 | 28 | 35.7% | 4 | 9 | 44.4% | 13 | 19 | 26 | - | - | - | - | 24 | 1.1 | 0.6 | 0.9 |
| 1978-79 | Sr | G | 19 | 1 | 16 | 27 | 59.3% | 8 | 14 | 57.1% | 11 | 18 | 15 | - | 11 | 5 | 0 | 40 | 2.1 | 0.6 | 0.9 |
| Career | | | 41 | +1 | 26 | 55 | 47.3% | 12 | 23 | 52.2% | 24 | 37 | 41 | - | +11 | +5 | +0 | 4 | 1.6 | 0.6 | 0.9 |
©RLYoung 2007, 2014, 2018