| | |
| --- | --- |
| Born: 8/20/1891 | South Otselic, NY |
Season Stats

| Season | Cl | Pos | G | GS | FG | FGA | % | FT | FTA | % | Fls | DQ | Pts | PPG |
| --- | --- | --- | --- | --- | --- | --- | --- | --- | --- | --- | --- | --- | --- | --- |
| 1910-11 | So | F | +12 | +12 | +21 | - | | +2 | - | | - | - | +44 | 0.0 |
| 1911-12 | Jr | F | +6 | +6 | +8 | - | | +9 | - | | - | - | +25 | 0.0 |
| Career | | | +18 | +18 | +29 | 0 | 0.0 | +11 | 0 | 0.0 | 0 | 0 | +69 | 0.0 |
Lew Ryan was a star forward for the Syracuse basketball team for two seasons. He was considered a good shooter.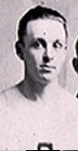 Ryan was a high school teammate of Sol Bloom, and the two helped the freshman team to an undefeated season (which lost only to the Syracuse Varsity squad in an exhibition at the end of the year).
Ryan would start most every game his sophomore season. He would miss the St. Lawrence game due to blood poisoning, but would return within a week to play against Dartmouth. Ryan would return for basketball his junior season, and helped the veteran team go 11-3. He did not play his senior year and would graduate from the Syracuse Law School in 1912.
Ryan would become a prominent attorney in the Syracuse area. He would eventually head the New York State Bar association and was the president of the American College of Trial Lawyers from 1957-1958.
Ryan would be a lifelong avid supporter of Syracuse University, and was on the Syracuse Board of Trustees for 28 years. He would be posthumously awarded the Syracuse Letterwinner of Distinction in 1968.
Ryan also was prominently involved in horse trotting racing. He was one of the founders of Vernon Downs Race Track. The trotter championship was called the Lew Ryan Trophy Trot, and latter the Lewis Ryan Memorial Race Series was named in his honor.
He passed away in May of 1961. Flags at Syracuse University were at half-mast in his honor. [1]
[Missing scoring in 1910-1911 from 2 games, and 4 games from 1911-1912 noted by the +]
[1] Syracuse Post Standard, 5/13/1961
© RLYoung 2010, 2018