| | |
| --- | --- |
| HS: West Genesee | Syracuse, NY |
Season Stats

| Season | Cl | Pos | G | GS | FG | FGA | % | FT | FTA | % | Reb | Fls | DQ | Pts | PPG | RPG |
| --- | --- | --- | --- | --- | --- | --- | --- | --- | --- | --- | --- | --- | --- | --- | --- | --- |
| 1960-61 | So | C | 23 | 20 | 61 | 188  | 32.4% | 35 | 62 | 56.5% | 165 | 72 | | 157 | 6.8 | 7.2 |
| Career | | | 23 | 20 | 61 | 188 | 32.4% | 35 | 62 | 56.5% | 165 | 72 | 0 | 157 | 6.8 | 7.2 |
Loren James played basketball for Syracuse University for one season where he was the starting center.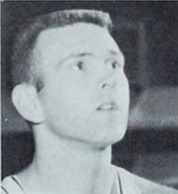 James starred at West Genesee High School under head coach Royce Newell, the former Syracuse star center. James would lead West Genesee to the 1958 Section III boys basketball title.
James would start at center his sophomore season. He was a strong player inside, but was inconsistent in his play and would split time with classmate Ernie Lotano. He would be second on the team in rebounding behind Pete Chudy.
James, Lotano, and Billy Connors would play for a YMCA team over the summer, which was against the NCAA rules at the time. As a result, the threesome were ineligible to play at Syracuse that winter. James would leave Syracuse and transfer to Creighton University. There James would team with legendary Paul Silas, that nation's leading rebounder. James would score 31 points for Creighton in a victory over South Dakota University on January 2nd, 1963, and would be the second leading scorer on the Blue Jays his junior season. James would lose his starting position with Creighton his senior year.
Creighton Statistics

| Season | Cl | Pos | G | GS | FG | FGA | % | FT | FTA | % | Reb | Fls | DQ | Pts | PPG | RPG |
| --- | --- | --- | --- | --- | --- | --- | --- | --- | --- | --- | --- | --- | --- | --- | --- | --- |
| 1962-63 | Jr | F | 23 | - | 136 | 366 | 37.2% | 30 | 55 | 54.5% | 177 | 58 | 4 | 302 | 13.1 | 7.7 |
| 1963-64 | Sr | F | 26 | - | 48 | 155 | 31.0% | 11 | 31 | 35,5% | 78 | - | - | 107 | 4.1 | 3.0 |
| Career | | | 49 | - | 184 | 521 | 35.3% | 41 | 86 | 47.7% | 255 | +58 | +4 | 409 | 8.3 | 5.2 |
© RLYoung 2008