| | |
| --- | --- |
| Born: 1/28/1926 | Johnson City, NY |
Season Stats

| Season | Cl | Pos | G | GS | FG | FGA | % | FT | FTA | % | Fls | DQ | Pts | PPG |
| --- | --- | --- | --- | --- | --- | --- | --- | --- | --- | --- | --- | --- | --- | --- |
| 1944-45 | Fr | C | +17 | +17 | | | | | | | | | +53 | ~3.1 |
| 1945-46 | So | C/F | 25 | 0 | | | | | | | | | 77 | 3.1 |
| 1946-47 | Jr | C | 12 | 0 | 0 | 0 | | 0 | 0 | | 0 | 0 | 19 | 1.6 |
| Career | | | +55 | +17 | 0 | 0 | 0.0 | 0 | 0 | 0.0 | 0 | 0 | +164 | ~3.1 |
'Long John' Ludka was the first 'giant' big man for Syracuse basketball, at slightly more than 6'11". 'Big John' was part of a trend in college basketball that saw big men such as George Mikan dominating the game. His height and personality made him extremely popular with the fans.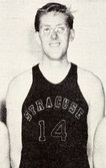 Ludka was a gangly player, who struggled on the court, and had only a handful of good games while at Syracuse. He was the starting center his freshman year, though he often looked lost on the court. By his sophomore season, he was replaced by Royce Newell most of the time. The high point of his career came against highly rated St. John's his sophomore season. Ludka was specifically started in the game to guard the Redmen's 6'9" All-American Harry Boykoff. Ludka stifled Boykoff the whole game, holding him to 6 points, as the Orangemen pulled off the upset 52-43.
Ludka left school early, after his junior season, struggling with the death of his father. He would play basketball for the renowned 'House of David' barnstorming team. The team marketed itself as the 'tallest team in the country' and Ludka had his height inflated to 7'3" for promotions. He also played two games for the Wilkes-Barre Barons of the ABL, failing to score a point.
Ludka passed away in February 2013.
[Note: Missing scoring from 2 games in 1944-1945 indicated by the +]
©RLYoung 2006, 2008, 2009, 2014, 2016, 2018, 2020