| | |
| --- | --- |
| HS: IMG Academy | Bradenton, FL |
| HS: Canarios Basketball Academy | Spanish Canary Islands |
| | |
| --- | --- |
| Born: 3/2000 | Amsterdam, Netherlands |
Season Stats

| Season | Cl | Pos | G | GS | Min | FG | FGA | % | FT | FTA | % | 3Pt | 3PA | % | Asst | Reb | DReb | OReb | Fls | DQ | TO | ST | BS | Pts | PPG | APG | RPG |
| --- | --- | --- | --- | --- | --- | --- | --- | --- | --- | --- | --- | --- | --- | --- | --- | --- | --- | --- | --- | --- | --- | --- | --- | --- | --- | --- | --- |
| 2019-20 | Fr | C | 21 | 0 | 146 | 19 | 24 | | 12 | 19 | | 0 | 0 | | 0 | 35 | 24 | 11 | 21 | 0 | 6 | 4 | 10 | 50 | 2.4 | 0.0 | 1.7 |
| 2020-21 | So | C | 18 | 0 | 160 | 12 | 26 | | 10 | 14 | | 0 | 0 | | 0 | 47 | 31 | 16 | 30 | 1 | 6 | 6 | 8 | 34 | 1.9 | 0.0 | 2.6 |
| 2021-22 | Jr | C | 24 | 24 | 668 | 114 | 165 | | 61 | 102 | | 0 | 0 | | 25 | 156 | 97 | 59 | 90 | 11 | 30 | 27 | 66 | 289 | 12.0 | 1.0 | 6.5 |
| 2022-23 | Sr | C | 32 | 32 | 1,041 | 180 | 304 | | 102 | 140 | | 1 | 1 | | 50 | 330 | 229 | 101 | 93 | 5 | 64 | 44 | 87 | 463 | 14.5 | 1.6 | 10.3 |
| Career | | | 95 | 56 | 2,019 | 325 | 518 | 62.7% | 185 | 275 | 67.3% | 1 | 1 | 100% | 75 | 568 | 381 | 187 | 234 | 17 | 106 | 81 | 172 | 836 | 8.8 | 0.8 | 6.0 |
Jesse Edwards is a center for Syracuse basketball. He was an excellent shot blocker and developed into an oustanding rebounder.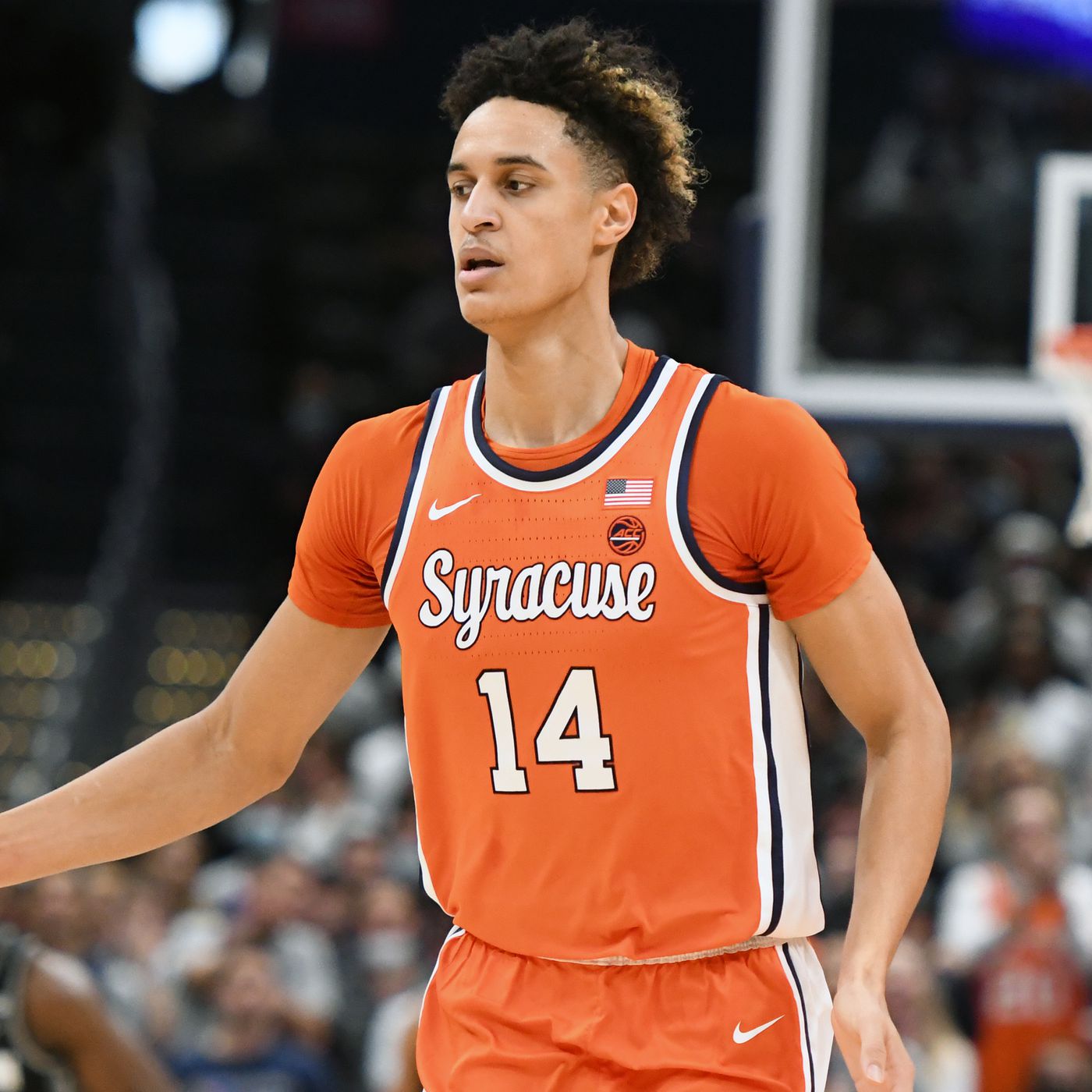 Edwards would see limited playing time his freshman season. He would show flashes of athleticism on the offensive end of the court, but overall struggled to play the physical level necessary.
Edwards would not see much playing time early in his sophomore season. His first game of note was against Miami where he played 23 minutes with 7 points and 6 rebounds. Edwards breaktrough game was in a loss to Georgia Tech on Feb 27th. He was far more active in the defensive flow, and scored 7 points with 8 rebounds. Edwards would remain part of the regular rotation for the last eight games of the season, giving Marek Dolezaj a break at the center position, and giving the zone defense a much different look.
Edwards made significant strides into his junior season. Defensively he was an effective shot blocker, with a career high seven blocks against Miami. He used to quickness to be quite effective at blocking perimeter shots. He still had difficulty boxing players out with his slim build but he did an admirable job of anchoring the zone defense. He also struggled a lot with fouls, often finding playing time limited because of foul trouble. He managed to foul out of 11 of the 24 games he played.
Offensively he made great strides throughout the season. He became very adept at the pick-and-roll, and was explosive to the hoop when he got the ball. He scored just over 69% of the time from the floor, and was becoming a important cog in the offense as the season progressed. He had a season high 22 points against Miami, and a season high 12 rebounds against Florida State. He demonstrated the ability to kick the ball back out to open shooters to give them good looks for perimeter shots. His season would unfortunately end early when he broke his wrist in the Boston College game.
Edwards developed into one of the top centers in the ACC by this senior year. He was a terrific shot blocker and an outstanding rebounder, and learned to prevent drawing cheap fouls. His quickness and size allowed him to dominate smaller teams. Syracuse lacked shooters on the team, and as a result several teams shut Edwards down by double teamming him and denying him the ball. Edwards would end up All ACC Third Team, and led the conference in blocked shots and field goal percentage. He would have an oustanding senior night against Wake Forest scoring 27 points with 20 rebounds, 5 steals, and 2 blocks leader the Orange to a win. He had sixteen games with double digit rebounds including a career high 21 against Bryant. He had six blocks in a game against Pittsburgh.
Edwards transferred to West Virginia after his senior year as a grad transfer.
© RLYoung 2019, 2020, 2021, 2022, 2023