| | |
| --- | --- |
| Born: 4/13/1998 | Bratislava, Slovakia |
Season Stats

| Season | Cl | Pos | G | GS | Min | FG | FGA | % | FT | FTA | % | 3Pt | 3PA | % | Asst | Reb | DReb | OReb | Fls | DQ | TO | ST | BS | Pts | PPG | APG | RPG |
| --- | --- | --- | --- | --- | --- | --- | --- | --- | --- | --- | --- | --- | --- | --- | --- | --- | --- | --- | --- | --- | --- | --- | --- | --- | --- | --- | --- |
| 2017-18 | Fr | F | 37 | 17 | 1033 | 79 | 147 | 53.7% | 54 | 76 | 71.1% | 2 | 9 | | 57 | 179 | 107 | 72 | 102 | 4 | 51 | 30 | 28 | 214 | 5.8 | 1.5 | 4.8 |
| 2018-19 | So | F | 34 | 6 | 737 | 52 | 93 | | 26 | 44 | | 11 | 29 | | 54 | 120 | 81 | 39 | 94 | 6 | 38 | 43 | 16 | 141 | 4.1 | 1.6 | 3.5 |
| 2019-20 | Jr | F | 32 | 32 | 1062 | 111 | 219 | | 109 | 146 | | 1 | 7 | | 88 | 206 | 134 | 72 | 104 | 9 | 62 | 36 | 27 | 332 | 10.4 | 2.8 | 6.4 |
| 2020-21 | Sr | F/C | 28 | 28 | 981 | 93 | 171 | | 87 | 102 | | 0 | 2 | | 91 | 144 | 100 | 44 | 80 | 1 | 48 | 32 | 24 | 273 | 9.8 | 3.3 | 5.1 |
| Career | | | 131 | 83 | 3813 | 335 | 630 | 53.2% | 276 | 368 | 75.0% | 14 | 47 | 29.8% | 290 | 649 | 422 | 227 | 380 | 20 | 199 | 141 | 95 | 960 | 7.3 | 2.2 | 5.0 |
Marek Dolezaj was a forward for the Syracuse Orange basketball team. He was a terrific passer and was known for his hustle plays.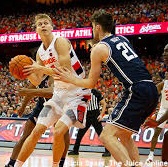 Dolezaj grew up in Slovakia. He played basketball for Slovakia in the FIBA Under-16 European Championship, the Under-18 European Championship and the Under-20 European Championship. He also played for Karlovka, a men's basketball team in the Extraliga league in the 2014-15 and 2016-17 seasons.
Dolezaj immediately impressed fans his freshman year with his hustle and smart basketball play. He showed he was an adept passer, and had a knack for getting rebounds despite being underweight for his height. He would have an impressive outing in his third game when against Texas Southern he scored 10 points with 9 rebounds and 7 assists. He was splitting time with Matthew Moyer at the forward position, until Moyer hurt his ankle in the Boston College game. Dolezaj would move into the starting line up and remain there for the rest of the season. With improved play on his part, and Moyer's injury lingering, Dolezaj would see a significant increase in his playing the remainder of the season. Though he was often open, he was hesitant to take the shot. He would become more aggressive as the season progressed and would lead the team with a personal high 20 points in a win over Wake Forest, hitting six of his seven shots.
Dolezaj would emerge as a consistent scoring threat in the NCAA tournament. He would scored 17 points against Texas Christian, leading the team to victory, despite fouling out after 33 minutes. He would take advantage of Duke's zone defense later in the tournament to score 13 points, and to help facilitate the offense with his passing from the top of the key.
Dolezaj would gain ten pounds before his sophomore year, but that would be offset by his growth of an inch to 6'10". Dolezaj would continue his sophomore year as the top reserve for the Orange. He played time at the forward and center positions. He would be more of a facilitator, and improved his perimeter shooting. He would start six games at center during mid season when Paschal Chukwu was not performing well. It was difficult for him to play prolonged time at the center position in ACC play because of his slight build. He did make several highlight reels when he took a charge from Duke's Zion Williamson. Williamson outweighed Dolezaj by a hundred pounds, and Dolezaj was sent flying from the collision. He got the charge call, but Dolezaj would spend the rest of the game on the bench recovering.
Dolezaj would pick up where he left off for his junior season. He moved into the starting lineup, and continued to be a solid play making forward. His ball handling skills had improved, and he usually once a game you could count on him grabbing a rebound and taking the ball coast-to-coast for a lay up. He would play with a lot of foul trouble, often picking up silly touch fouls. Dolezaj had good rapport with Bourama Sidibe, and he would not hesitant to pass the ball to the big man down low. He would have a season high 22 points in a loss to Duke.
Dolezaj would end up playing center most of his senior season, moving into the position to replace an injured Sidibe. It was a tough task for the undersized Dolezaj, but he filled in the position admirably. He was getting battered most of the season. He fractured his finger late in the year, and in the Georgetown game he took an elbow to the mouth and lost a tooth. Dolezaj would be one of the top play makers for the Orange all season, often facilitating the offense from a point forward position on offense. He had a career high ten assists in a win over Niagara early in the season, and a season high 20 points against Bryant to start the season. He had dramatically improved his free throw shooting since his freshman year, and would make 85% of his shots his senior year.
Dolezaj would play professional basketball in the Ukraine, Greece, Hungary, and Germany. [1]
© RLYoung 2017, 2018, 2019, 2020, 2021, 2023
[1] Proballers.com, Marek Dolezaj Stats