| | |
| --- | --- |
| Born: 4/1998 | Bratislava, Slovakia |
Season Stats

| Season | Cl | Pos | G | GS | Min | FG | FGA | % | FT | FTA | % | 3Pt | 3PA | % | Asst | Reb | DReb | OReb | Fls | DQ | TO | ST | BS | Pts | PPG | APG | RPG |
| --- | --- | --- | --- | --- | --- | --- | --- | --- | --- | --- | --- | --- | --- | --- | --- | --- | --- | --- | --- | --- | --- | --- | --- | --- | --- | --- | --- |
| 2017-18 | Fr | F | 37 | 17 | 1033 | 79 | 147 | 53.7% | 54 | 76 | 71.1% | 2 | 9 | | 57 | 179 | 107 | 72 | 102 | 4 | 51 | 30 | 28 | 214 | 5.8 | 1.5 | 4.8 |
| Career | | | 37 | 17 | 1033 | 79 | 147 | 53.7% | 54 | 76 | 71.1% | 2 | 9 | 22.2% | 57 | 179 | 107 | 72 | 102 | 4 | 51 | 30 | 28 | 214 | 5.8 | 1.5 | 4.8 |
Marek Dolezaj a forward for the Syracuse Orange basketball team.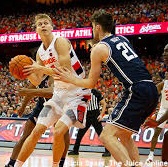 Dolezaj grew up in Slovakia. He played basketball for Slovakia in the FIBA Under-16 Europeon Championship, the Under-18 European Championship and the Under-20 Europeon Championship. He also played for Karlovka, a men's basketball team in the Extraliga league in the 2014-15 and 2016-17 seasons.
Dolezaj immediately impressed fans his freshman year with his hustle and smart basketball play. He showed he was an adept passer, and had a knack for getting rebounds despite being underweight for his height. He would have an impressive outing in his third game when against Texas Southern he scored 10 points with 9 rebounds and 7 assists. He was splitting time with Matthew Moyer at the forward position, until Moyer hurt his ankle in the Boston College game. Dolezaj would move into the starting line up and remain there for the rest of the season. With improved play on his part, and Moyer's injury lingering, Dolezaj would see a significant increase in his playing the remainder of the season. Though he was often open, he was hesitant to take the shot. He would become more aggressive as the season progressed and would lead the team with a personal high 20 points in a win over Wake Forest, hitting six of his seven shots.
Dolezaj would emerge as a consistent scoring threat in the NCAA tournament. He would scored 17 points against Texas Christian, leading the team to victory, despite fouling out after 33 minutes. He would take advantage of Duke's zone defense later in the tournament to score 13 points, and to help facilitate the offense with his passing from the top of the key.
© RLYoung 2017, 2018