| | | |
| --- | --- | --- |
| 6'10" | 215 lbs | Forward/Center |
| | |
| --- | --- |
| HS: Westtown School | West Chester, PA |
| HS: School at Church Farm | Exton, PA |
| | |
| --- | --- |
| Born: 12/1999 | Natinga, South Sudan |
Season Stats

| Season | Cl | Pos | G | GS | Min | FG | FGA | % | FT | FTA | % | 3Pt | 3PA | % | Asst | Reb | DReb | OReb | Fls | DQ | TO | ST | BS | Pts | PPG | APG | RPG |
| --- | --- | --- | --- | --- | --- | --- | --- | --- | --- | --- | --- | --- | --- | --- | --- | --- | --- | --- | --- | --- | --- | --- | --- | --- | --- | --- | --- |
| 2019-20 | Fr | DNP | - | - | - | - | - | | - | - | | - | - | | - | - | - | - | - | - | - | - | - | - | 0.0 | 0.0 | 0.0 |
| 2020-21 | Fr | C | 10 | 0 | 51 | 1 | 4 | | 0 | 0 | | 0 | 0 | | 2 | 4 | 2 | 2 | 7 | 0 | 1 | 1 | - | 2 | 0.2 | 0.2 | 0.4 |
| 2021-22 | So | F | 12 | 0 | 62 | 2 | 7 | | 1 | 2 | | 0 | 1 | | 5 | 14 | 12 | 2 | 8 | 0 | 3 | 0 | 1 | 5 | 0.4 | 0.4 | 1.2 |
| 2022-23 | Jr | F | 13 | 1 | 122 | 5 | 11 | | 4 | 7 | | 0 | 0 | | 19 | 25 | 14 | 11 | 12 | 0 | 9 | 4 | 2 | 14 | 1.1 | 1.5 | 1.9 |
| Career | | | 35 | 1 | 235 | 8 | 22 | 36.4% | 5 | 9 | 55.6% | 0 | 1 | 0.0% | 26 | 43 | 38 | 15 | 27 | 0 | 13 | 5 | 3 | 21 | 0.6 | 1.2 | 1.2 |
John Bol Ajak is a center/forward for Syracuse basketball.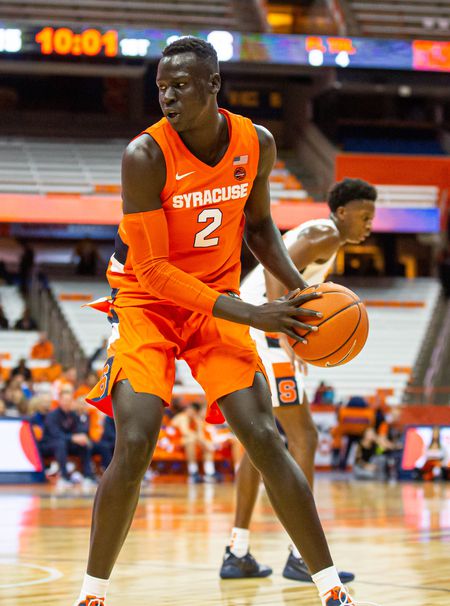 Ajak was very raw with his basketball skills and redshirted his freshman year. He did not play much his first season, and saw his playing time diminish once conference play began. He scored his only two points in an early season game against Rider. Ajak was visible to the fans for his bright orange headband, and his enthusiastic cheering from the side lines.
Ajak contemplated transferring after his freshman season, but instead returned for his sophomore year. He had limited playing time again, though he did play 10 minutes in a loss to Pitt and 12 in a loss to Duke.
Ajak would be a reserve again his junior season. However it was a young squad, and in several of the early season games he was called to come in off the bench to replace the struggling freshmen. He displayed a keen court awareness with some solid passing and rebounding. He scored a career high five points in a win against Georgetown, adding five points, two assists, and two steals. He would have four assists against both Notre Dame and Bryant. He got his first career start against Virginia when Benny Williams was ill.
© RLYoung 2019, 2020, 2021, 2022, 2023