| | |
| --- | --- |
| HS: St. Andrew's Episcopal | Potomac, MD |
| HS: IMG Academy | Bradenton, FL |
Season Stats

| Season | Cl | Pos | G | GS | Min | FG | FGA | % | FT | FTA | % | 3Pt | 3PA | % | Asst | Reb | DReb | OReb | Fls | DQ | TO | ST | BS | Pts | PPG | APG | RPG |
| --- | --- | --- | --- | --- | --- | --- | --- | --- | --- | --- | --- | --- | --- | --- | --- | --- | --- | --- | --- | --- | --- | --- | --- | --- | --- | --- | --- |
| 2021-22 | Fr | F | 29 | 0 | 333 | 21 | 63 | | 13 | 21 | | 1 | 11 | | 6 | 42 | 30 | 12 | 24 | 0 | 18 | 12 | 7 | 56 | 1.4 | 0.2 | 1.9 |
| 2022-23 | So | F | 30 | 24 | 669 | 85 | 190 | | 26 | 40 | | 19 | 48 | | 25 | 123 | 86 | 37 | 34 | 1 | 29 | 23 | 9 | 215 | 7.2 | 0.8 | 4.1 |
| Career | | | 59 | 24 | 1002 | 106 | 253 | 41.9% | 39 | 61 | 63.9% | 20 | 59 | 33.9% | 31 | 165 | 116 | 49 | 58 | 1 | 47 | 35 | 16 | 271 | 4.6 | 0.5 | 2.8 |
Benny Williams is a forward for the Syracuse Orange basketball team.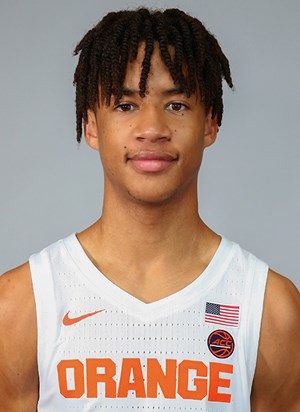 Williams was a highly rated recruit but struggled his freshman year. He would play most every game, but had a hard time appearing comfortable on the court, struggling on both ends of the court. He would have a breakout game late in the season against Duke when he scored 14 points and had 6 rebounds in a blowout loss. Unfortunately he would suffer a lower body injury in the next game against North Carolina, ending the season a few games early for him.
Williams' sophomore year was plagued with inconsistent play. He began the season as a starter, but would see his minutes fluctuate game to game. There would be game where he rebounded well, and/or shot well and other games when he disappeared. He would lose his starting position at the end of January, and regain it a month later. He would score a season high 24 points in the road loss to Pitt, and have double digit rebound games against Wake Forest, Boston College and St. John's. He may have had his best game of the season in the ACC tournament loss to Wake Forest when he had 18 pts, 11 rebounds, and 5 steals.
© RLYoung 2022, 2023