| | |
| --- | --- |
| HS: Canisius | Buffalo, NY |
| HS: Montverde Academy | Montverde, FL |
| HS: Athlete Institute Prep | Mono, Ontario |
Season Stats

| Season | Cl | Pos | G | GS | Min | FG | FGA | % | FT | FTA | % | 3Pt | 3PA | % | Asst | Reb | DReb | OReb | Fls | DQ | TO | ST | BS | Pts | PPG | APG | RPG |
| --- | --- | --- | --- | --- | --- | --- | --- | --- | --- | --- | --- | --- | --- | --- | --- | --- | --- | --- | --- | --- | --- | --- | --- | --- | --- | --- | --- |
| 2017-18 | Fr | G | 18 | 0 | 110 | 5 | 17 | | 7 | 10 | | 2 | 12 | | 10 | 15 | 15 | 0 | 5 | 0 | 7 | 6 | 1 | 19 | 1.1 | 0.6 | 0.8 |
| 2018-19 | So | G | 3 | 0 | 10 | 0 | 1 | | 0 | 0 | | 0 | 1 | | 1 | 4 | 4 | 0 | 0 | 0 | 0 | 0 | 0 | 0 | 0.0 | 0.3 | 1.3 |
| 2019-20 | Jr | G | 20 | 0 | 148 | 7 | 26 | | 7 | 7 | | 2 | 13 | | 24 | 17 | 15 | 2 | 3 | 0 | 11 | 8 | 0 | 23 | 1.2 | 1.2 | 0.9 |
| Career | | | 41 | 0 | 268 | 12 | 44 | 27.3% | 14 | 17 | 82.4% | 4 | 26 | 15.4% | 35 | 36 | 15 | 2 | 8 | 0 | 18 | 14 | 1 | 42 | 1.0 | 0.9 | 0.9 |
Howard Washington is a guard for the Syracuse Orange basketball team. He is known for being a good ball handler and playmaker.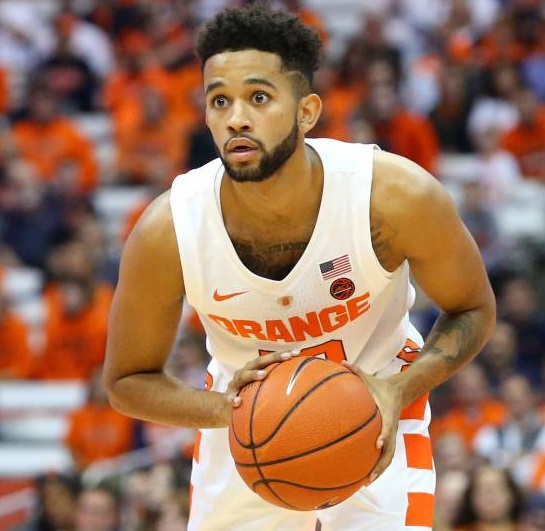 Washington started his freshman year as the fourth guard on the team behind starters Frank Howard and Tyus Battle, and graduate transfer Geno Thorpe. He was not seeing much playing time as the starting duo were counted on for most of the team's scoring. That did not change much when Thorpe abruptly left the team in December. Washington's biggest game of the year was against Florida State when he played 24 minutes in a double overtime loss, scoring a season high nine points. Washington was improving in practice, and coach Jim Boeheim stated he hoped to start playing him more in three guard offensive sets. Unfortunately Washington's freshman season would suddenly end when he had a severe leg injury January 30th in practice.
Washington had surgery in the off season, and the Orange hoped he would be ready for the next season. He would play a few games early in the year, but it was apparent he was still struggling with the recovery from this injury and would take a medical redshirt for the remainder of the 2018-19 season. Washington would later reveal that he had suffered a stroke September 26th, and that was the primary reason he was taking the redshirt.[1]
Washington would see limited playing time his junior season due to a crowded backcourt. His experience was helpful in running the team when he did get the opportunity to be on the court, and he had a reputation for being a team leader off the court. He did have a big game in a blowout win over Georgia Tech with 8 assists in seventeen minutes of playing time.
Washington would transfer to South Alabama after his junior season. He would opt out of the 2020-21 season due to Covid-19 concerns.[2]
© RLYoung 2017, 2018, 2019, 2020
[1] Mike Waters & Howard Washington, Feb 26, 2019, Syracuse.com
[2] Mike Waters, Dec 1, 2020, Syracuse.com