| | |
| --- | --- |
| HS: Long Island City | Long Island City, NY |
Season Stats

| Season | Cl | Pos | G | GS | Min | FG | FGA | % | FT | FTA | % | Asst | Reb | Fls | DQ | TO | ST | BS | Pts | PPG | APG | RPG |
| --- | --- | --- | --- | --- | --- | --- | --- | --- | --- | --- | --- | --- | --- | --- | --- | --- | --- | --- | --- | --- | --- | --- |
| 1980-81 | Fr | G | 35 | 1 | 437 | 55 | 123 | 44.7% | 33 | 44 | 75.0% | 43 | 28 | 65 | 5 | 62 | 29 | 1 | 143 | 4.1 | 1.2 | 0.8 |
| 1981-82 | So | G | 29 | 28 | 865 | 90 | 192 | 46.9% | 55 | 82 | 67.1% | 113 | 73 | 96 | 8 | 62 | 58 | 1 | 235 | 8.1 | 3.9 | 2.5 |
| 1982-83 | Jr | G | 30 | 30 | 839 | 110 | 209 | 52.6% | 59 | 81 | 72.8% | 129 | 65 | 96 | 6 | 87 | 57 | 4 | 279 | 9.3 | 4.3 | 2.1 |
| 1983-84 | Sr | G | 32 | 32 | 858 | 105 | 235 | 44.7% | 83 | 112 | 74.1% | 125 | 70 | 83 | 5 | 78 | 34 | 1 | 293 | 9.2 | 3.9 | 2.2 |
| Career | | | 125 | 91 | 2998 | 360 | 759 | 47.4% | 230 | 319 | 72.1% | 410 | 236 | 340 | 24 | 289 | 178 | 7 | 950 | 7.6 | 3.3 | 1.9 |
Gene Waldron was a three year starter for Syracuse, a steadying influence on the court. Waldron was a quiet player, with good ball handling skills and a reliable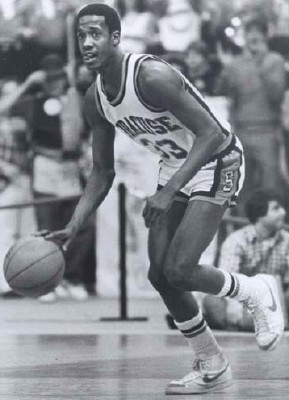 shot. He was a solid free throw shooter.
As a freshman, he earned decent playing time as a reserve guard, backing up Eddie Moss, Marty Headd, and Erich Santifer. He became the starting point guard his sophomore and junior seasons, though he often found himself more in the shooting guard role, and Leo Rautins handled the ball frequently.
Waldron moved to the shooting guard position his senior season, to allow Pearl Washington to play the point. He would have one huge shining moment that year. On December 4, 1983, against Iona, Waldron found himself extremely sharp at shooting hitting 13 of 17 shots, and would score 40 points in a 109-92 victory over Iona in the Carrier Classic championship, earning the tournament MVP. At the time he graduated, Waldron was second all-time in assists at Syracuse (behind Moss).
Waldron would play some professional basketball in England following his graduation.
In 2005, he became part of the Syracuse radio basketball network as the color analyst. He left that position in 2008.
© RLYoung 2006, 2007, 2013, 2017