| | |
| --- | --- |
| HS: Cherry Hill West | Cherry Hill, NJ |
| | |
| --- | --- |
| Born: 1/19/1945 | Amarillo, TX |
Season Stats

| Season | Cl | Pos | G | GS | FG | FGA | % | FT | FTA | % | Asst | Reb | Fls | DQ | Pts | PPG | APG | RPG |
| --- | --- | --- | --- | --- | --- | --- | --- | --- | --- | --- | --- | --- | --- | --- | --- | --- | --- | --- |
| 1964-65 | So | F/C | 20 | 10 | 67 | 131 | 51.1% | 26 | 46 | 56.5% | - | 121 | 56 | - | 160 | 8.0 | --- | 6.1 |
| 1965-66 | Jr | C | 28 | 18 | 138 | 241 | 57.3% | 86 | 106 | 81.1% | 27 | 207 | 89 | 2 | 339 | 12.9 | 1.0 | 7.5 |
| 1966-67 | Sr | C | 23 | 22 | 160 | 290 | 55.1% | 93 | 123 | 75.6% | - | 210 | 82 | 0 | 413 | 18.0 | 0.0 | 9.1 |
| Career | | | 71 | 50 | 352 | 640 | 55.0% | 208 | 281 | 74.0% | +27 | 539 | 226 | +2 | 912 | 12.8 | --- | 7.8 |
Rick Dean was a bulky center for Syracuse with a good shooting eye and a soft shooting touch accompanying a very physical style of play.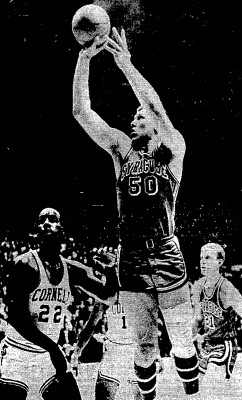 Dean led the freshman basketball team in scoring with 370 points and a 19.5 ppg average. He shot 54% from the floor that year and 75% from the free throw line, along with averaging 12.5 rebounds a game.
His sophomore year he would split time between the forward and center position, shifting positions with senior Chuck Richards. His junior season, Dean would be recognized as the most improved player on the team. He would battle Vaughn Harper for leading the team in rebounds (Harper would win out), and shoot an outstanding 57% from the field and 81% from the free throw line. In a game against Colgate on February 14th, 1966, Dean would make all thirteen of his field goal attempts for a Syracuse record, on his way to a 30 point game.
Dean would be recognized at the Syracuse Most Valuable Player his senior year, second on the team in both scoring and rebounding, and despite being only 6'6", he was the tallest regular player on the team. He would score a career high 34 points twice that season, in wins over both LaSalle and West Virginia. He would earn Honorable Mention UPI All-American status that year. Dean was also solid in the classroom earning 2nd Team Academic All-American status, and being recognized as the top ROTC Army Cadet at Syracuse University.
Dean would be drafted in the 9th round of the 1967 NBA Draft by the San Francisco Warriors, and would also be drafted by the ABA's Denver Nuggets. However, he chose to head another direction, one that would lead him to a very interesting post-Syracuse career.
Dean would enlist in the Army infantry following graduation, and would serve in the 101st Airborne Division in Vietnam. Dean would be highly decorated, earning a Silver Star and Bronze Star, among other recognitions. He would leave the military in 1970 as a captain.
He would then spend three years working for the FBI, before deciding to pursue a career in education and coaching. Dean would be a high school administrator and basketball coach for 20 years in the North Carolina public school system.
Dean then become an ordained Methodist Minister, and would be the head pastor of Higgins Memorial United Methodist Church in Burnsville, North Carolina, and later Waverly Grace United Methodist Church in Waverly, Ohio [1].
In 2003, Dean was honored as a Syracuse Letterwinner of Distinction. He was also inducted into the Syracuse ROTC Hall of Fame. Dean passed away in May 2012 at the age of 67.
©RLYoung 2009, 2010, 2012
[1] Syracuse Post-Standard, Mike Waters, May 18, 2012