| | | |
| --- | --- | --- |
| 6'9" | 210 lbs | Center/Forward |
| | |
| --- | --- |
| HS: Manlius Military Academy | Manlius, NY |
| HS: Poland Central School | Poland, NY |
Season Stats

| Season | Cl | Pos | G | GS | FG | FGA | % | FT | FTA | % | Reb | Fls | DQ | Pts | PPG | RPG |
| --- | --- | --- | --- | --- | --- | --- | --- | --- | --- | --- | --- | --- | --- | --- | --- | --- |
| 1963-64 | Jr | C | 24 | 24 | 177 | 299 | 59.2% | 174 | 237 | 73.4% | 228 | 81 | - | 528 | 22.0 | 9.5 |
| 1964-65 | Sr | F/C | 23 | | 102 | 185 | 55.1% | 134 | 169 | 79.3% | 198 | 74 | - | 338 | 14.7 | 8.5 |
| Career | | | 47 | 44 | 279 | 484 | 57.6% | 308 | 406 | 75.9% | 426 | 155 | 0 | 866 | 18.4 | 9.1 |
Chuck Richards was a proficient scoring big man for Syracuse. Richards had sure hands, was a solid shooter, and was a sure shot when getting the ball near the basket.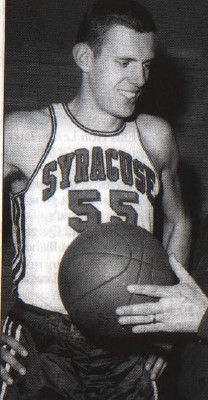 Richards was from Poland, New York, but attended the Manlius Military Academy. He initially played basketball for Army at West Point for two seasons, and at the time was the tallest individual in the history of the U.S. military academies [1]. He transferred to Syracuse for his last two years of basketball. He also played varsity baseball and soccer for Army.
Richards and Dave Bing provided the Orangemen with a powerful 1-2 scoring punch their first year together, combining to score 44+ points a game and almost 18 rebounds a game. The dynamic Bing dazzled fans and the opposition with his outstanding ball handling, leaping and shooting ability. Richards dominated the inside as the recipient of many brilliant Bing passes, and showed a nice shooting touch. Richards was also a decent free throw shooter, which benefited greatly with the frequency he went to the line. Richards would lead Syracuse in scoring six of the first seven games he would play, including a 35 point effort in a win over Cornell. He would set the Syracuse record for points scored by a junior (since broken) and was one of the leading players in the country in field goal accuracy.
The team had high expectations during Richard's senior season. Unfortunately, the schedule was difficult, and the team tended to depend on Bing too much. Richards was far more passive in his play, and sophomore center Rick Dean was playing hard nosed ball. Fred Lewis would take Richards out of the starting lineup to get him refocused, which did pay dividends down the stretch as it renewed Richard's focus.
Richards would end his career with one of the highest shooting percentages in school history at nearly 58%, and averaging 18.1 ppg.
He would join the FBI three years after graduating from Syracuse, and would serve as a special agent for 27 years [2].
In 2000, Richards was honored as a Syracuse Letterwinner of Distinction.
Army Basketball Statistics

| Season | Cl | Pos | G | GS | FG | FGA | % | FT | FTA | % | Reb | Fls | DQ | Pts | PPG | RPG |
| --- | --- | --- | --- | --- | --- | --- | --- | --- | --- | --- | --- | --- | --- | --- | --- | --- |
| 1961-62 | So | C | 11 | - | 56 | 112 | 50.0% | 53 | 75 | 70.7% | 103 | 38 | 0 | 165 | 15.0 | 9.4 |
| Career | | | 11 | - | 56 | 112 | 50.0% | 53 | 75 | 70.7% | 103 | 38 | - | 165 | 15.0 | 9.4 |
[1] Sports Illustrated, December 18, 1961
[2] Manlius Pebble Hill Reflections, Winter 2014 edition
©RLYoung 2006, 2016, 2017