| | |
| --- | --- |
| HS: Masten Park | Buffalo, NY |
| | |
| --- | --- |
| Born: 3/2/1885 | Buffalo, NY |
Season Stats

| Season | Cl | Pos | G | GS | FG | FGA | % | FT | FTA | % | Fls | DQ | Pts | PPG |
| --- | --- | --- | --- | --- | --- | --- | --- | --- | --- | --- | --- | --- | --- | --- |
| 1904-05 | Fr | F | +12 | +10 | | | | | | | | | +67 | 0.0 |
| 1905-06 | So | F | +9 | +9 | +37 | | | +16 | | | | | +90 | 0.0 |
| 1906-07 | Jr | DNP | -- | -- | -- | -- | -- | -- | -- | -- | -- | -- | -- | 0.0 |
| 1907-08 | Sr | F | +10 | +8 | +21 | -- | -- | +21 | -- | -- | -- | -- | +63 | 6.3 |
| Career | | | +31 | +27 | +58 | 0 | 0.0 | +34 | 0 | 0.0 | 0 | 0 | +220 | 0.0 |
George Redlein was a good shooting forward and a starter for Syracuse for three seasons. Redlein played high school basketball with fellow Syracuse player Art Powell, and played on the Buffalo Germans from 1901 to 1905, helping them win the AAU National Championship in 1904, the Pan American Games championship in 1901, and the exhibition Olympic title in 1905 in St. Louis.
Redlein scored a career high 26 points against Hamilton his sophomore year. He was the team's appointed captain for his junior season. However he suffered from appendicitis before the season, and ended up missing the entire year [1]. He was the team manager for the last game of the season.
Redlein was the team's leading scorer his senior year, and one of the leading field goal shooters in the East.
Redlein later played professional basketball.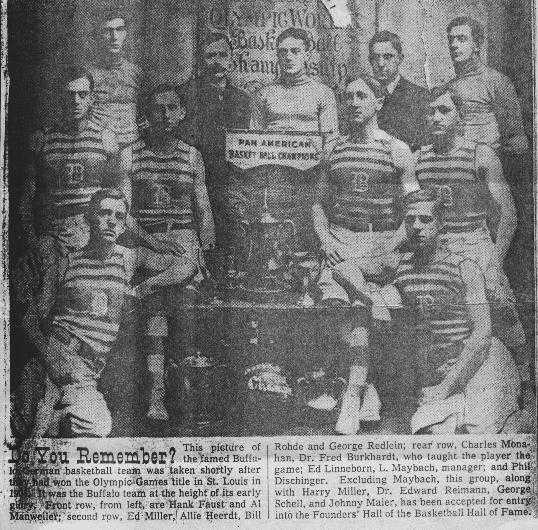 The Buffalo Germans team that Redlein played with was considered one of the best basketball teams of its era, including both professional and amateur teams. The entire German team was inducted into the National Basketball Hall of Fame in 1961, with George Redlein as one of the team members.
Redlein passed away in July 1968.
Note: Sometimes his name was listed as George Redline.
[Scoring missing from 12 games, and games participation from 10 games, indicated by the +]
©RLYoung 2006, 2009, 2016, 2018, 2019
[1] Syracuse Post Standard Jan 8, 1907