| | |
| --- | --- |
| 1907-1908 Syracuse Orangemen | |
Coach: John A.R. Scott
Syracuse returned three highly seasoned players with captain Eddie Dollard, George Redlein and Max Riehl. Matt Lee, a sharp shooting sophomore joined the team along with a dynamic ball handler Lou Sugarman and big Paul Lynch.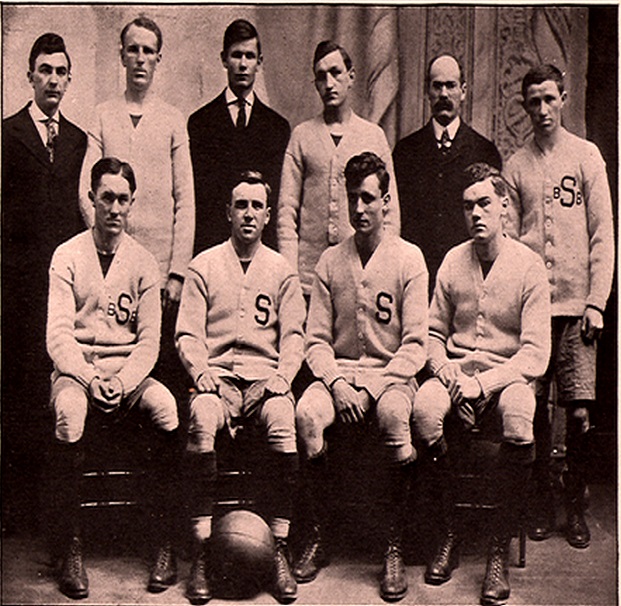 Syracuse would win its first eight games, most by a comfortable margin. They had a large lead on highly rated Williams College at home, 18-11 at the half. Syracuse went into a stall in the second half, which backfired and allowed Williams to catch back up and tie the game, sending it into overtime. Fortunately, Redlein played well in the overtime and Syracuse would win 25-21. The following month they went to North Adams, Massachusetts to play Williams College on the road. Syracuse would win that game 20-9, snapping Williams three year home winning streak.
The first loss of the season would be a forfeit to Wesleyan. The was very physical, and the officials were calling a lot of fouls, but only on Syracuse. Syracuse still led the game 22-16 in the second half when Dollard called a timeout to officially protest the officiating, and ask for a new referee. The referee then ruled that Syracuse had withdrawn from the game in protest and thus Syracuse had to forfeit the game, which is not what Syracuse had done. Dollard protested further, and stated that any person in the building, including the opposing coach, could officiate the game but the referee would not hear it, and the forfeit stood.
The Orangemen would lose their next two with a road loss to Brown and a home loss to Penn, both tough opponents. Matt Lee would be ineligible to play the last few games because of academic issues.
They would close out the season with two wins, bringing their record to 10-3, one of the best campaigns in Syracuse's then short basketball history.
[Scoring missing from 2 games indicated by the +]
© RLYoung 2005, 2006, 2007, 2008, 2016, 2019