| | |
| --- | --- |
| HS: Manalapan | Manalapan, NJ |
| | |
| --- | --- |
| Born: 4/8/1985 | Freehold, NJ |
Season Stats

| Season | Cl | Pos | G | GS | Min | FG | FGA | % | FT | FTA | % | 3Pt | 3PA | % | Asst | Reb | DReb | OReb | Fls | DQ | TO | ST | BS | Pts | PPG | APG | RPG |
| --- | --- | --- | --- | --- | --- | --- | --- | --- | --- | --- | --- | --- | --- | --- | --- | --- | --- | --- | --- | --- | --- | --- | --- | --- | --- | --- | --- |
| | So | F | 5 | 0 | 7 | 2 | 3 | 66.7% | 3 | 6 | 50.0% | 0 | 0 | --- | 0 | 4 | 4 | 0 | 0 | 0 | 3 | 0 | 0 | 7 | | | |
| 2005-06 | Jr | G | 1 | 0 | 1 | 0 | 1 | 0.0% | 0 | 0 | --- | 0 | 0 | --- | 0 | 0 | 0 | 0 | 0 | 0 | 0 | 0 | 0 | 0 | 0.0 | 0.0 | 0.0 |
| 2006-07 | Sr | G | 4 | 0 | 5 | 1 | 4 | 25.0% | 0 | 0 | --- | 0 | 1 | 0.0% | 0 | 3 | 0 | 3 | 0 | 0 | 0 | 0 | 0 | 2 | 0.5 | 0.0 | 0.8 |
| Career | | | 10 | 0 | 13 | 3 | 8 | 37.5% | 3 | 6 | 50.0% | 0 | 1 | 0.0% | 0 | 7 | 4 | 3 | 0 | 0 | 3 | 0 | 0 | 9 | 0.9 | 0.0 | 0.7 |
Todd Burach was a walk-on guard for Syracuse for three seasons.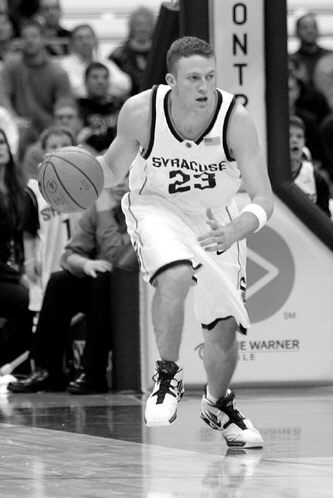 At Manalapan High School he was team captain his senior year. Burach had played high school basketball against Darryl Watkins and Terrence Roberts. The two mentioned Burach as a walk on candidate to coach Bernie Fine, who had him try out for the team.
Burach would work at Morgan Stanley.
© RLYoung 2006-2007, 2016