| | |
| --- | --- |
| HS: St. Anthony's | Jersey City, NJ |
| | |
| --- | --- |
| Born: 8/14/1984 | Newark, NJ |
Season Stats

| Season | Cl | Pos | G | GS | Min | FG | FGA | % | FT | FTA | % | 3Pt | 3PA | % | Asst | Reb | DReb | OReb | Fls | DQ | TO | ST | BS | Pts | PPG | APG | RPG |
| --- | --- | --- | --- | --- | --- | --- | --- | --- | --- | --- | --- | --- | --- | --- | --- | --- | --- | --- | --- | --- | --- | --- | --- | --- | --- | --- | --- |
| 2003-04 | Fr | F | 26 | 0 | 234 | 21 | 59 | 35.6% | 12 | 23 | 52.2% | 1 | 6 | 16.7% | 5 | 53 | 38 | 15 | 45 | 0 | 16 | 11 | 10 | 55 | 2.1 | 0.2 | 2.0 |
| 2004-05 | So | F | 33 | 7 | 610 | 95 | 167 | 56.9% | 46 | 83 | 55.4% | 2 | 7 | 28.6% | 20 | 130 | 69 | 61 | 99 | 6 | 46 | 36 | 28 | 238 | 7.2 | 0.6 | 3.9 |
| 2005-06 | Jr | F | 35 | 35 | 1115 | 159 | 285 | 55.8% | 56 | 133 | 42.1% | 2 | 6 | 33.3% | 56 | 267 | 163 | 104 | 115 | 8 | 69 | 48 | 45 | 376 | 10.7 | 1.6 | 7.6 |
| 2006-07 | Sr | F | 33 | 33 | 950 | 116 | 213 | 54.5% | 62 | 128 | 48.4% | 0 | 6 | 0.0% | 40 | 266 | 161 | 95 | 104 | 6 | 61 | 30 | 45 | 294 | 8.9 | 1.2 | 8.1 |
| Career | | | 127 | 75 | 2909 | 391 | 724 | 54.0% | 176 | 367 | 48.0% | 5 | 25 | 20.0% | 121 | 716 | 431 | 275 | 363 | 20 | 192 | 125 | 128 | 963 | 7.6 | 1.0 | 5.6 |
Terrence Roberts was a strong athletic forward for Syracuse basketball for four seasons. 'TRob' was a solid defender and rebounder, though ultimately never developed into the player that fans thought he could be. He could run the court well, playing well in the transition offense, but had weak perimeter and free throw shooting.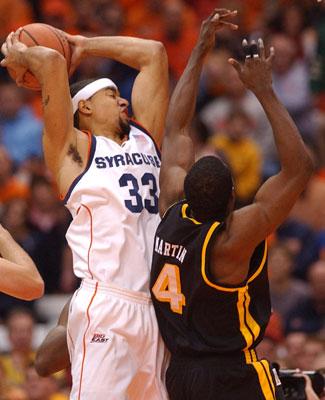 Roberts would play in most of the games his freshman season, though his playing time was limited by the abundance of upperclassmen already on the team. His sophomore year, Roberts would become a key reserve off the bench, providing valuable defense, rebounding and scoring. When Billy Edelin would leave the team late in the season, Roberts would be inserted into the starting lineup for the last seven games.
Roberts would play well down the stretch. After his sophomore year, he would join the US Under 21 National Team, where he would play well. Expectations were high on what Roberts would achieve his junior season, as he replaced the departed Hakim Warrick as the primary big man.
Roberts started out his junior season meeting expectations, leading the team in scoring for the first two games, and pulling down 14 rebounds against Cornell. However, as the season progress, Roberts would struggle to be consistent. He had a tendency to shy away from contact near the basket, and struggled to handle the inside pass. He was also a horrendous free throw shooter, and opposing teams would not hesitate to foul him, forcing him to go to the charity stripe to earn his two points. Roberts' junior season was a decent year, but by no means met the expectations he or his fans had prior. In February, he hit a memorable game winning three point basket against Rutgers in overtime.
There were high expectations for Roberts his senior season. He was on the Big East Preseason all conference team. He would open the season with some strong offensive efforts and grabbed 13 rebounds against both St. Francis and Northeastern. He was still struggling with his consistency, as was the whole team, when he severely injured his knee the Drexel game. He would miss a couple of games, and then return to finish out the season, hampered by a very sore knee. Fans came to appreciate his hustle in the games, though he clearly was in pain, and often could play only 20 to 25 minutes. In the Big East tournament, Roberts pulled down 20 rebounds against Notre Dame, as the Orange lost in the quarter finals.
Roberts would play international basketball after graduating from Syracuse, including playing in Jordan.
© RLYoung 2006, 2007, 2011