| | | |
| --- | --- | --- |
| | | Assistant Coach / Manager |
| | |
| --- | --- |
| HS: Erasmus Hall | Brooklyn, NY |
| | |
| --- | --- |
| Born: 12/23/1945 | Brooklyn, NY |
Bernie Fine never played basketball at Syracuse University, but no mention of him would be a tremendous oversight. He lettered for the basketball program and was associated with the program for 39 years.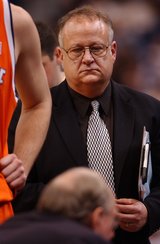 Fine was a student manager of the Syracuse basketball team at the same time as Jim Boeheim and Dave Bing. Fine lettered as team manager in 1966 and 1967.
Following graduation, he went into business for himself. He got into coaching in 1970, and from 1971 to 1976, was a coach a Henninger High School; he was the head coach there from 1974-1976.
When Jim Boeheim became the head coach of Syracuse in 1976, he hired Bernie Fine as one of his first assistants. Fines primary job over the years has been to coach the big men at Syracuse. From Roosevelt Bouie to Louis Orr, from Derrick Coleman and Rony Seikaly to John Wallace and Etan Thomas, and so forth (including Craig Forth), Fine has been the coach who worked extensively with these players.
In 2000, he was named the Associate Head Coach as Syracuse. In 2001, when Boeheim missed three games due to health problems, Fine coached the team to a 1-2 record (though officially these totals are part of Boeheim's record). Fine was an assistant coach at Syracuse for 35 seasons.
Fine was named a Letterwinner of Distinction in 1999 and inducted into the Greater Syracuse Hall of Fame in 2011.
In November of 2011, Fine was accused of molesting two former Syracuse basketball ball boys. This resulted in his termination as an assistant basketball coach at Syracuse after 35 years. The charges were never proven in court.
©RLYoung 2005, 2011