| | |
| --- | --- |
| HS: Union-Endicott | Endwell, NY |
Season Stats

| Season | Cl | Pos | G | GS | Min | FG | FGA | % | FT | FTA | % | Asst | Reb | Fls | DQ | TO | ST | BS | Pts | PPG | APG | RPG |
| --- | --- | --- | --- | --- | --- | --- | --- | --- | --- | --- | --- | --- | --- | --- | --- | --- | --- | --- | --- | --- | --- | --- |
| 1981-82 | Fr | G | 26 | 1 | 337 | 33 | 67 | 49.3% | 20 | 31 | 64.5% | 27 | 25 | 49 | 0 | 41 | 11 | 2 | 86 | 3.3 | 1.6 | 1.0 |
| 1982-83 | So | G | 29 | 1 | 335 | 29 | 55 | 52.7% | 22 | 27 | 81.5% | 37 | 26 | 39 | 1 | 27 | 11 | 3 | 80 | 2.8 | 1.3 | 0.9 |
| 1983-84 | Jr | G | 20 | 0 | 159 | 17 | 42 | 40.5% | 13 | 16 | 81.3% | 22 | 23 | 15 | 0 | 12 | 4 | 0 | 47 | 2.4 | 1.1 | 1.2 |
| 1984-85 | Sr | G | 9 | 0 | 49 | 3 | 10 | 30.0% | 8 | 11 | 72.7% | 4 | 6 | 5 | 0 | 2 | 0 | 0 | 14 | 1.6 | 0.4 | 0.7 |
| Career | | | 57 | 2 | 880 | 82 | 174 | 47.1% | 63 | 85 | 74.1% | 87 | 80 | 108 | 1 | 82 | 26 | 5 | 227 | 4.0 | 1.5 | 1.4 |
Sonny Spera was a tall guard, a scholarship player, who consistently remained a bench player throughout his career. He played a prominent role as a reserve his freshman season but his playing time decreased each season he played at Syracuse. Spera was respected enough by his teammates to be a co-captain his senior season, despite limited playing time. He was a solid free throw shooter, and an outstanding student.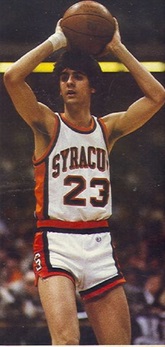 The most memorable moment of Spera's career came in a lopsided loss against North Carolina his junior season. Syracuse was down big going into halftime, when Spera hit a half court shot as time expired. Against Georgetown in his sophomore year, Spera substituted for Gene Waldron, and scored 10 points in 14 minutes to spark a Syracuse rally, yet to see if fall short on a Hoya buzzer beater.
Spera was a graduate assistant coach at the University of Buffalo from 1985 to 1989. There he earned his DDS, and he became a dentist.
Spera also spent several years working with youth basketball. He was named a Syracuse Letterwinner of Distinction in 2019.
© RLYoung 2005, 2006, 2020