| | |
| --- | --- |
| #23/42/61 Ronnie Kilpatrick | |
| | |
| --- | --- |
| HS: Madison | Rochester, NY |
Season Stats

| Season | Cl | Pos | G | GS | FG | FGA | % | FT | FTA | % | Reb | Fls | DQ | Pts | PPG | RPG |
| --- | --- | --- | --- | --- | --- | --- | --- | --- | --- | --- | --- | --- | --- | --- | --- | --- |
| 1951-52 | Fr | F | 10 | 0 | 15 | | | 7 | 26 | 26.9% | | 21 | | 37 | 3.7 | 0.0 |
| 1952-53 | So | F/G | 18 | 4 | | | | | | | | | | 132 | 7.3 | 0.0 |
| 1953-54 | Jr | F | 12 | 12 | 69 | | | 55 | 75 | 73.3% | | 48 | | 193 | 16.1 | 0.0 |
| Career | | | 40 | 16 | +84 | 0 | 0.0 | +62 | +101 | 0.0 | 0 | +69 | 0 | 362 | 9.1 | 0.0 |
Ronnie Kilpatrick was a talented forward for Syracuse. He was a highly regarded recruit, and at that time considered the best player ever out of the Rochester area. He was the second African-American player for Syracuse following Wilmeth Sidat-Singh.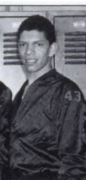 Kilpatrick was one of the team's top rebounders, and an outstanding scorer. He played ten games as a freshman for the varsity. As a sophomore he was the fourth leading scorer on the team. His junior year Kilpatrick was the second leading scorer on the team, and a force for rebounding.
Kilpatrick was leading the Orangemen in scoring his junior season, and was providing a consistent strong force up front. He was alternating between center and forward, at times substituting for the injured Dave Kline. Unfortunately, he had disciplinary problems and was dropped from the team on February 2nd. The Orangemen would struggle down the stretch finishing 3-4 without him.
Initially, Kilpatrick was going to transfer to another school for his senior year, but instead opted to enlist in the military. He received his undergraduate degree at another university after his military commitment ended.
Kilpatrick would become a teacher, and in 1965 would be elected to the Monroe County Board of Supervisors.
He was a cousin of teammate Walt Scott [1].
©RLYoung 2006, 2008, 2009, 2016, 2017
[1] Rochester Democrat-Chronicle, January 4, 1954