| | | |
| --- | --- | --- |
| 6'5" | 205 lbs | Center/Forward |
| | |
| --- | --- |
| HS: Charlotte Hall Military Academy | Charlotte Hall, MD |
Season Stats

| Season | Cl | Pos | G | GS | FG | FGA | % | FT | FTA | % | Reb | Fls | DQ | Pts | PPG | RPG |
| --- | --- | --- | --- | --- | --- | --- | --- | --- | --- | --- | --- | --- | --- | --- | --- | --- |
| 1951-52 | Fr | C/F | 12 | 0 | 7 | | | 10 | 17 | 58.8% | | 22 | | 24 | 2.0 | 0.0 |
| 1952-53 | So | C/F | 18 | 14 | | | | | | | | | | 254 | 14.1 | 0.0 |
| 1953-54 | Jr | C | 13 | 8 | 34 | | | 40 | 57 | 70.2% | | 35 | | 108 | 8.3 | 0.0 |
| Career | | | 43 | 22 | +41 | - | - | +50 | +74 | - | - | +57 | - | 386 | 9.0 | 0.0 |
Dave Kline played basketball for Syracuse University for three seasons. Kline was a strong front court player who spent time at the forward and center position.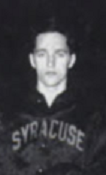 Kline did not get much opportunity to play his freshman season behind upperclassmen Ed Miller and Frank Reddout. He did however move into the starting lineup as center his sophomore season, and was one of the team's top scorers, four times scoring over twenty points. He would have a career high 24 points in a loss to Colgate towards the end of the season.
Kline's junior senior started out well. He scored 66 points in the first four games. He would unfortunately fracture his wrist against Princeton in late December, causing him to miss several weeks of play. He would return in February, but was not nearly as productive for the remainder of the season.
Kline was ruled medically ineligible to play for his senior season, thus ending his collegiate career.
©RLYoung 2015, 2017