| | |
| --- | --- |
| HS: Frewsburg Central | Frewsburg, NY |
| | |
| --- | --- |
| Born: 8/12/1935 | Little Valley, NY |
Season Stats

| Season | Cl | Pos | G | GS | FG | FGA | % | FT | FTA | % | Reb | Fls | DQ | Pts | PPG | RPG |
| --- | --- | --- | --- | --- | --- | --- | --- | --- | --- | --- | --- | --- | --- | --- | --- | --- |
| 1954-55 | So | F/C | 20 | 11 | 63 | - | - | 44 | 69 | 63.8% | - | 53 | - | 170 | 8.5 | |
| 1955-56 | Jr | F/C | 22 | 22 | 115 | - | - | 77 | 104 | 74.0% | - | 54 | - | 308 | 14.0 | |
| 1956-57 | Sr | F | 25 | 25 | 164 | 347 | 47.3% | 116 | 140 | 82.9% | 271 | 77 | - | 444 | 17.8 | |
| Career | | | 67 | 58 | +342 | +347 | --- | 237 | 313 | 75.7% | +271 | 184 | - | 922 | 13.8 | 0.0 |
Gary Clark was a speedy forward for Syracuse basketball for three seasons. Clark was a solid perimeter shooter and an excellent free throw shooter. He was a decent rebounder too.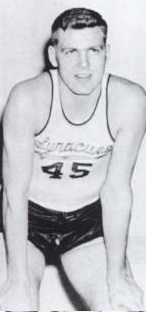 Clark was part of a valuable class at Syracuse, one that would raise the team from a .500 club to an NCAA tournament team. The class included Vinnie Cohen, Jim Brown, Jim Snyder and Vinnie Albanese. Clark would split time at the forward and center position his sophomore season. He would move into the starting lineup at mid season, and remain there for most of the season. Against rival Colgate he would score 21 points to help the Orangemen win in overtime.
Clark would be a starter for all his junior season as the Orangemen had a balanced offense with all five starters scoring in double digits.
The Orangemen would put together a run into the NCAA tournament Clark's senior year, and he was a big part of it. Clark was the second leading scorer on the team with 17.8 ppg, and was outstanding at the free throw line at 82.9%. Clark would lead Syracuse to a victory over New York University with 28 points and 15 rebounds; a couple games later he would score 27 points in a close victory over Army. Clark was saving his best efforts for the end of the season. The Orangemen would easily beat rival Colgate behind Clark's 33 points.
Clark would save his best for the NCAA tournament. Star Vinnie Cohen would struggle in the first NCAA game against Connecticut scoring 11 points. Clark would step up and lead the Orangemen with 26 points in the win. Syracuse would find itself in a close game with Lafayette in the second round. Clark would save the day with a career high 34 points, hitting 13 of 20 shots from the floor, and eight of ten free throws. Syracuse would move on to the next round against #1 ranked North Carolina. Unfortunately the Tar Heel talent was too much as they pulled out to an early lead, and Syracuse had to fight to get back into the game. In the process three Orangemen would foul out, including Clark.
Clark would be drafted in the third round of the 1957 NBA draft by the New York Knicks, but would not play in the NBA. He would enlist in the army after graduation and would play basketball for the Army.
Clark would work in the banking industry for 37 years before retiring in 1995.
©RLYoung 2010, 2015, 2017, 2019