| | |
| --- | --- |
| HS: Prolific Prep | Napa, CA |
| HS: Lincoln Academy | Suwanee, GA |
| HS: Westlake | Atlanta, GA |
Season Stats

| Season | Cl | Pos | G | GS | Min | FG | FGA | % | FT | FTA | % | 3Pt | 3PA | % | Asst | Reb | DReb | OReb | Fls | DQ | TO | ST | BS | Pts | PPG | APG | RPG |
| --- | --- | --- | --- | --- | --- | --- | --- | --- | --- | --- | --- | --- | --- | --- | --- | --- | --- | --- | --- | --- | --- | --- | --- | --- | --- | --- | --- |
| 2020-21 | Fr | C | 4 | 0 | 26 | 1 | 1 | | 4 | 5 | | 0 | 0 | | 0 | 5 | 3 | 2 | 4 | 0 | 3 | 1 | 1 | 6 | 1.5 | 0.0 | 1.2 |
| 2021-22 | So | C | 32 | 6 | 453 | 30 | 48 | | 24 | 40 | | 0 | 0 | | 13 | 123 | 71 | 52 | 65 | 1 | 17 | 8 | 17 | 84 | 2.6 | 0.4 | 3.8 |
| Career | | | 36 | 6 | 479 | 31 | 49 | 63.3% | 28 | 45 | 62.2% | 0 | 0 | --- | 13 | 128 | 74 | 54 | 69 | 1 | 29 | 9 | 18 | 90 | 2.5 | 0.3 | 3.6 |
Frank Anselem was a center for Syracuse basketball. He was an athletic player who never had the opportunity to develop his offensive game at Syracuse.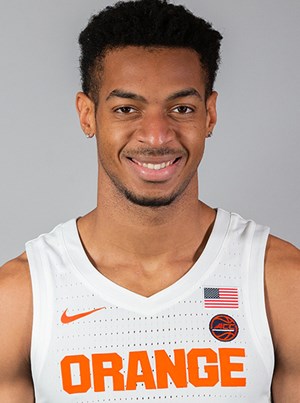 Anselem had limited playing time his freshman year, appearing in only four games. He scored all six of his points in a win over Rider. Anselem would contract Covid-19 in late December, and would not play again that season.
Anselem was the backup center his sophomore season due to the lingering health issues with Bourama Sidibe. He was still fairly raw in his skills, and struggled with consistency, but he did often find himself getting playing time because of the foul trouble Jesse Edwards encountered. Anselem would be thrust into the starting role when Edwards broke his wrist in the Boston College game. Anselem responded with a season high 15 rebounds against Virginia Tech in his first career start. He would start the next six games, and he provided spurts of great rebounding mixed with long runs of poor rebounding. He was not scoring much at all, and Sidibe would get the starting nod over him to finish the season. Anselem did have 15 rebounds again, this time off the bench, against Florida State in the ACC tournament. He also had season highs of 9 points, 4 assists and 3 blocks in that game.
Anselem transferred to the University of Georgia after his sophomore season.
© RLYoung 2020, 2021, 2022