| | |
| --- | --- |
| HS: DeMatha Catholic | Hyattsville, MD |
| | |
| --- | --- |
| Born: 5/7/1947 | Washington, DC |
Season Stats

| Season | Cl | Pos | G | GS | FG | FGA | % | FT | FTA | % | Asst | Reb | Fls | DQ | Pts | PPG | APG | RPG |
| --- | --- | --- | --- | --- | --- | --- | --- | --- | --- | --- | --- | --- | --- | --- | --- | --- | --- | --- |
| 1967-68 | So | G | 23 | 14 | 83 | 226 | 36.7% | 39 | 56 | 69.6% | - | 75 | 39 | | 205 | | | |
| 1968-69 | Jr | G | 9 | 9 | 43 | 131 | 32.8% | 11 | 19 | 57.9% | - | 47 | 27 | | 97 | | | |
| 1969-70 | Sr | G | 23 | 23 | 184 | 434 | 42.3% | 77 | 103 | 74.5% | 90 | 90 | 70 | 4 | 445 | | | |
| Career | | | 55 | 46 | 310 | 791 | 39.2% | 127 | 178 | 71.3% | +90 | 212 | 136 | +4 | 747 | 13.6 | --- | 3.9 |
Ernie Austin was an extremely talented guard who had problems staying on the court due to academic and injury problems. Austin was rated the top high school player in the country as a junior, and chose Syracuse over 70 other schools. As a junior his DeMatha team beat Lew Alcindor's Power Memorial High School, giving Alcindor the only defeat in his high school career.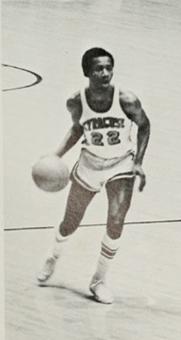 On the freshman team at Syracuse, 'E.A' led the Tangerines to a perfect 16-0, with a school freshman record 30.0 points per game.
As a sophomore he was a starter for most the first half of the season, and was one of the top scorers on the team, until he hit a slump and lost his starting position. Austin was academically ineligible to play the first semester his junior season, and missed portions of the second half due to injury. Overall he was limited to 9 games that year.
The start of his senior season Austin, now co-captain, was playing to his potential, leading the Orangemen in scoring, and to a 6-0 start, in which he had back-to-back 29 point games. He was suspended for one game mid-season for disciplinary reasons, and the team struggled down the stretch finishing 12-12. He scored 33 points, a career high, in his last college game, a lopsided loss to Bowling Green.
Austin passed away in September 2014.[1]
© RLYoung 2005, 2007, 2015
[1] Snead Funeral Home and Cremation Service, Ernest Austin Obituary