| | |
| --- | --- |
| Born: 3/11/1875 | West Paris, ME |
Season Stats

| Season | Cl | Pos | G | GS | FG | FGA | % | FT | FTA | % | Fls | DQ | Pts | PPG |
| --- | --- | --- | --- | --- | --- | --- | --- | --- | --- | --- | --- | --- | --- | --- |
| 1900-01 | Jr | G | 3 | 3 | | | | | | | | | | 0.0 |
| 1901-02 | Sr | G | +0 | +0 | | | | | | | | | +0 | 0.0 |
| Career | | | +3 | +3 | 0 | 0 | 0.0 | 0 | 0 | 0.0 | 0 | 0 | +0 | 0.0 |
Courtney Whittemore was a starting guard on the first varsity Syracuse basketball team. He played guard for Syracuse for the first two seasons of the program.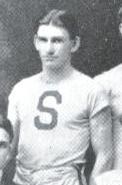 Whittemore was considered one of the top athletes at the university. He was on the cross country and track teams, and was captain of the latter. Starting in 1902, he and John A.R. Scott were the coaches of the men's track team.
Whittemore graduated with a law degree from Syracuse and was a practicing lawyer.
[Note 1901-1902 statistics missing scoring from four games, noted by the +]
© RLYoung 2006, 2011