| | |
| --- | --- |
| HS: Amherst Central | Snyder, NY |
Season Stats

| Season | Cl | Pos | G | GS | FG | FGA | % | FT | FTA | % | Reb | Fls | DQ | Pts | PPG | RPG |
| --- | --- | --- | --- | --- | --- | --- | --- | --- | --- | --- | --- | --- | --- | --- | --- | --- |
| 1956-57 | So | G | 7 | 0 | 1 | 5 | 20.0% | 0 | 1 | 0.0% | 6 | 4 | - | 2 | 0.3 | 0.9 |
| 1957-58 | Jr | G/F | 21 | 21 | 81 | 215 | 37.7% | 56 | 78 | 71.8% | 96 | 60 | - | 218 | 10.4 | 4.6 |
| 1958-59 | Sr | G | 23 | 17 | 45 | 99 | 45.5% | 43 | 58 | 74.1% | 61 | 58 | 4 | 133 | 5.8 | 2.7 |
| Career | | | 51 | 38 | 127 | 319 | 39.8% | 99 | 137 | 72.3% | 163 | 122 | - | 353 | 6.9 | 3.2 |
Bruce Schmelzer was a guard for Syracuse basketball for three seasons.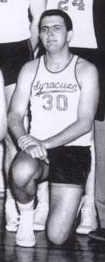 Schmelzer did not see much playing time his sophomore season, on a team that was full of talented upper classmen, and one that made Syracuse's first NCAA tournament appearance.
Schmelzer moved into the starting lineup his junior year, helping to fill the positions vacated by graduating seniors Vinnie Albanese and Manny Breland. He teamed with sophomore Eddie Goldberg in the backcourt for most of the year. Goldberg would tear his knee ligaments in the Penn State game late in the season, and Syracuse needed a player to step up and assume some of Goldberg's scoring role. Schmelzer would be one of those players to step up, averaging 16.5 points a game for the last four games of the season, including a career high 21 points to help beat Connecticut on the last game of the season, clinching the winning season for the Orangemen.
Schmelzer would be co-captain of the team his senior season, along with Jon Cincebox. High scoring Pete Chudy joined the team, and Tom Mossey developed as a scoring threat; as a result, Schmelzer's need to score was reduced his senior year.
©RLYoung 2015, 2017