| | |
| --- | --- |
| HS: North Syracuse | Syracuse, NY |
| | |
| --- | --- |
| Born: 11/27/1939 | Seneca Falls, NY |
Season Stats

| Season | Cl | Pos | G | GS | FG | FGA | % | FT | FTA | % | Reb | Fls | DQ | Pts | PPG | RPG |
| --- | --- | --- | --- | --- | --- | --- | --- | --- | --- | --- | --- | --- | --- | --- | --- | --- |
| 1959-60 | Jr | G | 2 | 0 | 6 | 10 | 60.0% | 0 | 1 | 0.0% | 3 | 3 | 0 | 12 | 6.0 | 1.5 |
| 1960-61 | Sr | G | 8 | 0 | 4 | | | 2 | | | | | | 10 | 1.3 | |
| Career | | | 10 | 0 | 10 | +10 | 0.0 | 2 | +1 | 0.0 | +3 | +3 | 0 | 22 | 2.2 | 0.0 |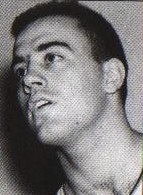 Dave Giusti played two seasons of basketball for Syracuse as a reserve guard, though he never lettered. He would have far greater success at Syracuse, and professionally, in baseball. He would score 10 points against Alfred in his junior season.
Giusti was both a shortstop and a pitcher for the Orangemen from 1959-1961, lettering 3 times. He helped lead Syracuse to a third place finish in the 1961 College World Series.
Giusti would play 16 years in major league baseball, most significantly as a starter for the Houston Colt 45s and a reliever for the Pittsburgh Pirates. He helped the Pirates to a World Championship in 1971, when he went 5-6, with a 2.93 era, and 30 saves, leading the league in saves. He was renowned for his palmball.
Guisti would retire from baseball in 1978. He would work as a salesman for Millcraft Industries and American Express before retiring in 1994 [1].
Giusti was inducted into the Syracuse Hall of Fame in 1989.
Major League Baseball Statistics

| Seasons | W | L | % | ERA | G | GS | CG | ShO | Sv | IP | H | R | ER | BB | SO |
| --- | --- | --- | --- | --- | --- | --- | --- | --- | --- | --- | --- | --- | --- | --- | --- |
| 16 | 100 | 93 | .518 | 3.60 | 668 | 133 | 35 | 9 | 145 | 1,716.6 | 1,654 | 764 | 687 | 570 | 1,103 |
©RLYoung 2005, 2006, 2012, 2014, 2015
[1] SABR Baseball Biography Project