| | | |
| --- | --- | --- |
| 6'5" | 225 lbs | Guard/Forward |
| | |
| --- | --- |
| HS: Capistrano Valley | Mission Viejo, CA |
Season Stats

| Season | Cl | Pos | G | GS | Min | FG | FGA | % | FT | FTA | % | 3Pt | 3PA | % | Asst | Reb | DReb | OReb | Fls | DQ | TO | ST | BS | Pts | PPG | APG | RPG |
| --- | --- | --- | --- | --- | --- | --- | --- | --- | --- | --- | --- | --- | --- | --- | --- | --- | --- | --- | --- | --- | --- | --- | --- | --- | --- | --- | --- |
| 1990-91 | Fr | G/F | 26 | 0 | 276 | 40 | 77 | 52.0% | 15 | 29 | 51.7% | 15 | 40 | 37.5% | 29 | 44 | --- | --- | 35 | 1 | 15 | 9 | 7 | 110 | 4.2 | 1.1 | 1.7 |
| 1991-92 | So | G/F | 19 | 1 | 137 | 13 | 27 | 48.2% | 2 | 5 | 40.0% | 7 | 18 | 38.9% | 8 | 14 | 7 | 7 | 12 | 0 | 6 | 3 | 0 | 35 | 1.8 | 0.4 | 0.7 |
| 1992-93 | Jr | G/F | 16 | 0 | 115 | 15 | 34 | 44.1% | 6 | 8 | 75.0% | 4 | 11 | 36.4% | 7 | 23 | 15 | 8 | 13 | 0 | 7 | 7 | 0 | 40 | 2.5 | 0.4 | 1.4 |
| 1993-94 | Sr | G/F | 30 | 1 | 502 | 64 | 134 | 47.8% | 29 | 39 | 74.4% | 12 | 35 | 34.3% | 40 | 94 | 51 | 43 | 62 | 1 | 24 | 6 | 23 | 169 | 5.6 | 1.3 | 3.1 |
| Career | | | 91 | 2 | 1030 | 132 | 272 | 48.5% | 52 | 81 | 64.2% | 38 | 104 | 36.5% | 84 | 175 | --- | --- | 122 | 2 | 37 | 25 | 30 | 354 | 3.9 | 0.9 | 1.9 |
Scott McCorkle was a reserve swingman for Syracuse basketball for four seasons. He had an excellent perimeter shot, and reportedly had the best vertical leap on the team at 30". He was not a fast player but a smart handler of the ball.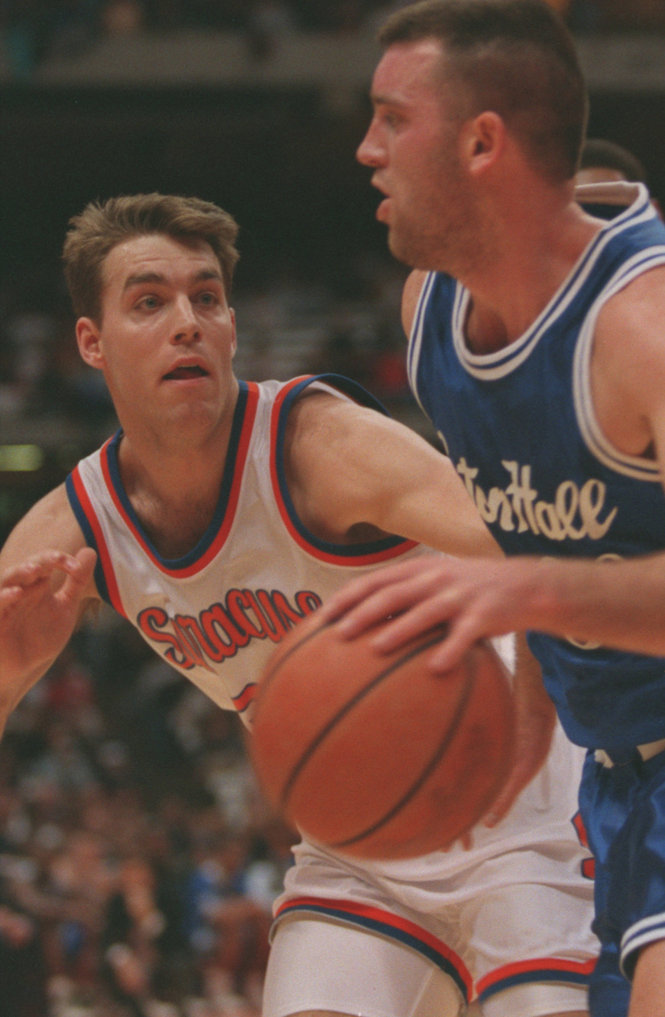 Syracuse had a veteran team when McCorkle was a freshman, but he was part of the rotation averaging about 10 minutes a game. He did have a big game against #19 UConn. Adrian Autry was limited by foul trouble, so McCorkle played 30 minutes in the game. He would have a team high five assists plus thirteen points to help lead the Orangemen to a 81-79 win.
McCorkle would have a close battle for the starting small forward position with freshman Lawrence Moten during fall practice his sophomore year. Moten would barely nudge McCorkle out of the start in the first game, relegating him to the bench as a reserve. McCorkle would break his thumb against Lafayette on December 21st, and then miss the next ten games. The inactivity frustrated McCorkle and he gained ten pounds; when he returned, he was ineffective for the rest of the season with the combination of being slower and having his shot altered by the break.
McCorkle struggled his junior year to regain his speed and his jump shot. He would fall behind several other players on the reserve bench, and played in only sixteen games. He reportedly considered transferring after his junior year, but a large number of transfers and graduations from the team, left Syracuse with only nine scholarship players for his senior year, so he stayed.
McCorkle worked hard over the summer and lost the extra weight he had gained, and regained his confidence in his jump shot. He would earn the sixth man position on the team, providing the team with an extra shooter on the court and hustle on defense. He would average about sixteen minutes a game and 5.6 points his senior year.
McCorkle would go into sales in the southern California area after graduation. He had played basketball at Syracuse under his adoptive father's last name (McCorkle), but would assume his professional career under his birth name Scott Lundeen.
© RLYoung 2010, 2015