| | |
| --- | --- |
| HS: Cook Academy | Montour Falls, NY |
| HS: Central | Syracuse, NY |
Season Stats

| Season | Cl | Pos | G | GS | FG | FGA | % | FT | FTA | % | Fls | DQ | Pts | PPG |
| --- | --- | --- | --- | --- | --- | --- | --- | --- | --- | --- | --- | --- | --- | --- |
| 1931-32 | So | G | 22 | 22 | | | | | | | | | 154 | 7.0 |
| 1932-33 | Jr | G | 16 | 16 | | | | | | | | | 119 | 7.4 |
| 1933-34 | Sr | G | 17 | 17 | | | | | | | | | 155 | 9.1 |
| Career | | | 55 | 55 | 0 | 0 | 0.0 | 0 | 0 | 0.0 | 0 | 0 | 428 | 7.8 |
Ronnie Phillips was a starting guard for Syracuse for three seasons. He was a prolific scorer in his era, a strong team leader, and teamed with Elmer Maister to form one of the most highly rated Syracuse back courts.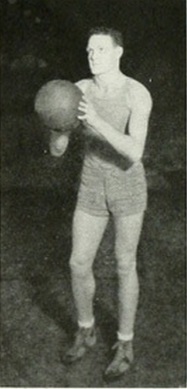 Phillips was a well known high school basketball player, first at Central High in Syracuse, and then at Cook Academy. He would travel with an All-Star team to play in Venezuela the summer prior to coming to Syracuse University. Phillips was a high school teammate of future Syracuse teammate George Armstrong, and a prep school teammate of Howard Wills.
Phillips made an immediate impact on the varsity team, starting all 22 games his sophomore season, and leading the team in scoring. He would score 14 points leading the team in scoring his first game, and kept rolling from there. Phillips was known for an excellent shooting eye. He would help guide the Orangemen to a 29-4 record his junior and senior seasons, where he was the captain of the latter. He was also president of the student body his senior year.
Phillips would coach the Syracuse's North High School's football and basketball teams from 1938 to 1943. He would join the FBI in 1943 as a special agent, and would be well known in the Syracuse area; he retired in 1958.
Ronald Phillips passed away in September of 1968.
© RLYoung 2007, 2016