| | |
| --- | --- |
| HS: Brewster Academy | MA |
| HS: Broad Ripple | Broad Ripple, IN |
| | |
| --- | --- |
| Born: 1/24/1993 | Indianapolis, IN |
Season Stats

| Season | Cl | Pos | G | GS | Min | FG | FGA | % | FT | FTA | % | 3Pt | 3PA | % | Asst | Reb | DReb | OReb | Fls | DQ | TO | ST | BS | Pts | PPG | APG | RPG |
| --- | --- | --- | --- | --- | --- | --- | --- | --- | --- | --- | --- | --- | --- | --- | --- | --- | --- | --- | --- | --- | --- | --- | --- | --- | --- | --- | --- |
| 2013-14 | Fr | G | 10 | 0 | 54 | 11 | 29 | | 0 | 3 | | 6 | 19 | | 5 | 7 | 1 | 6 | 4 | 0 | 3 | 4 | 0 | 28 | 2.8 | 0.5 | 0.7 |
| 2014-15 | So | G | 29 | 0 | 404 | 31 | 99 | | 4 | 14 | 28.6% | 9 | 52 | 17.3% | 49 | 26 | 17 | 9 | 32 | 1 | 15 | 20 | 4 | 75 | 2.6 | 1.7 | 0.9 |
| Career | | | 39 | 0 | 458 | 42 | 128 | 32.8% | 4 | 17 | 23.5% | 15 | 71 | 21.1% | 54 | 34 | 18 | 15 | 36 | 1 | 18 | 24 | 4 | 103 | 2.6 | 1.4 | 0.9 |
Ron 'Buss' Patterson was a guard for Syracuse University for two seasons.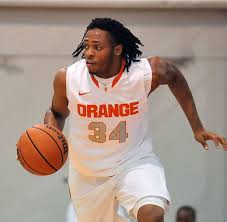 Patterson originally signed to attend Indiana University. However, he failed to meet the school's academic requirements [1]. He played very little his freshman year as he was a reserve behind three upper classmen guards. He did score a season high 10 points in a lopsided win against Binghamton. Patterson was recognizable on the bench and the court by his long dreadlocks.
Patterson would cut off his dreadlocks before his sophomore season. He would struggle with his perimeter shooting and his free throw shooting all season long. His shooting got to be so bad that coach Jim Boeheim prohibited him from taking another three point shot for the year. Despite his poor shooting, Patterson did warrant playing time in most games. He was a much better defender and ball handler than freshman Kaleb Joseph, and Boeheim liked using him to replace Joseph. Patterson would score a season high 13 points in a lopsided win against Colgate.
After his sophomore season, Patterson announced he was transferring to Indiana University Purdue University of Indianapolis (IUPUI).
IUPUI Statistics

| Season | Cl | Pos | G | GS | Min | FG | FGA | % | FT | FTA | % | 3Pt | 3PA | % | Asst | Reb | DReb | OReb | Fls | DQ | TO | ST | BS | Pts | PPG | APG | RPG |
| --- | --- | --- | --- | --- | --- | --- | --- | --- | --- | --- | --- | --- | --- | --- | --- | --- | --- | --- | --- | --- | --- | --- | --- | --- | --- | --- | --- |
| 2016-17 | Jr | G | 32 | - | 757 | 107 | 242 | 44.2% | 21 | 30 | 70.0% | 62 | 156 | 39.7% | 64 | 79 | --- | --- | 70 | 2 | 40 | 44 | 13 | 297 | 9.3 | 2.0 | 2.5 |
| Career | | | 32 | 0 | 757 | 107 | 242 | 44.2% | 21 | 30 | 70.0% | 62 | 156 | 39.7% | 64 | 79 | --- | --- | 70 | 2 | 40 | 44 | 13 | 297 | 9.3 | 2.0 | 2.5 |
© RLYoung 2013, 2014, 2015, 2017
[1] Ron Patterson Out at Indiana, Eamonn Brennan ESPN 8-15-2012